Art instructor Suzanne Kaufman was a professional animator by trade when she stumbled on a different kind of calling: writing and illustrating books for kids.
As the 3D lead of character animation and environments at Seattle-based Sucker Punch Productions, Kaufman spent more than five years helping bring to life the creatures and world of Sly Cooper, a trilogy of games about a young thieving raccoon that combined noir-inspired capers with a Saturday morning cartoon style. Prior to that she worked on the Microsoft's Flight Simulator series and created 3D graphics and effects for television.
But it was Kaufman's work at Sucker Punch — her dream job — that created a near-perfect fit for professionally exploring the kind of whimsical art style she was simultaneously expressing in her personal work, which she sometimes exhibited with studio co-lead Karin Madan.
"We were doing an art show in Fremont, and at that show I had my business card up on the wall," Kaufman said. "And a publisher in Seattle saw it and asked me to make a book of my business card."
The picture on the card was of an illustrated monkey character.
"I'd just started adjunct teaching at DigiPen, and I was having my second child. And I had to get it done in two months," Kaufman says. "I just had to do, as Yoda says."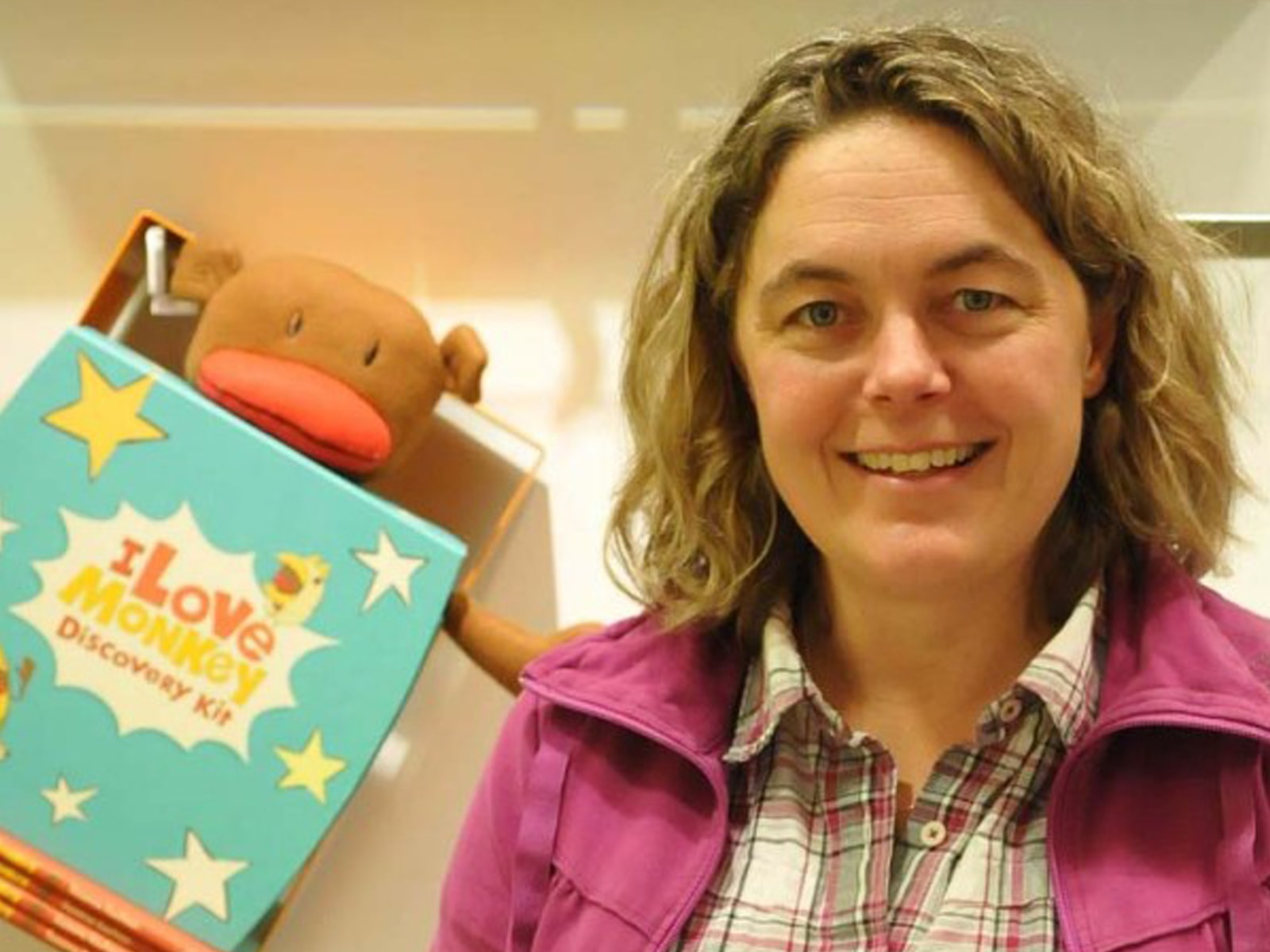 What eventually came about was a 32-page book titled I Love Monkey, published in 2009 by Compendium Inc. It tells the story of a monkey who tries to be something special — including a bee, a bunny, a robot, and more — only to discover that the most special thing in the world for Monkey to be is itself.
One family comes back and buys a book from me every year, because their son loves it to death and he wears it out."
The book was a winner of the Mom's Choice Award, as well as the PTPA (Parent-tested and Parent-approved) Media Seal of Approval.
"And among families it's been a huge hit," Kaufman says. "One family comes back and buys a book from me every year, because their son loves it to death and he wears it out."
The world of children's book publishing is not incredibly different than the world of professional game development, Kaufman says. Her illustrations still abide by the 12 principles of animation but also require a more iterative process for getting everything just right.
"I will make 20,000 different choices for one image. I will create four sketch books for one book. I'll revise the text a hundred times. It's unbelievable," Kaufman says. "So a video game actually seems easier now."
Since the success of the book, Kaufman and her publisher released an I Love Monkey discovery kit, which includes both the book and a plush Monkey doll. She's also illustrated an Amazon Kindle book and art directed for an iOS game called U F Oinkers. While pitching new book ideas, her current project has been to complete a new sketch painting a day, a process you can follow on her personal art blog.
And, of course, as Senior Lecturer of Animation and Production at DIgiPen, Kaufman continues to help students become professional artists and animators.
Do work every day. Do work that's not assigned."
"This was always my plan, that when I had kids I would teach. But I was looking for the right school," Kaufman says. "If I wasn't at DigiPen I wouldn't teach anywhere else, because the students here are so good."
Kaufman says she manages her classes much like she managed her art teams at Sucker Punch, motivating and encouraging students with constant project milestones and clear, constructive feedback. Despite working in a digital medium, she emphasizes the importance of learning the fundamentals of traditional drawing and painting, as well as finding and developing one's individual art style.
"Do work every day. Do work that's not assigned," Kaufman says.
She also offers a simple piece of advice straight from the character of Monkey.
"Just be you," she says. "Try a lot of things, and don't be afraid to fail."