The need for social distancing has disrupted life as we know it, including within the realm of education. After one of the initial cases of coronavirus emerged in King County late February, Seattle schools began to close on March 11. Later, on March 23, Governor Jay Inslee announced a stay-at-home order for the state of Washington, which remains in effect for most businesses and families.
After months of careful adaptation and thought, DigiPen has emerged from the crisis with a plan for Fall 2020. The sliding, multiphase approach will open campus gradually to in-person education as safely as possible by implementing a variety of health measures, and allowing for partial or full shifts to online distance learning. Although time has given DigiPen a chance to plan for the future, the everyday lives of students and faculty at DigiPen were immediately impacted by the pandemic. Despite the ambiguous set of challenges the virus presented, the decision to pivot to remote learning was made quickly. The transition was swift, and preparations were made in a matter of days.
"From the first week it hit, we knew something bad would happen, but we didn't really think it could have escalated that quickly," says Chris Comair, DigiPen's Chief Operating Officer, looking back at the first week of March. "We didn't have any infections recorded but we started seeing the infections spike in the area." By the end of the week, the decision was made to switch to online teaching.
Faculty and staff worked through the following weekend to make sure they were well equipped to make a pivot to 100-percent remote instruction. DigiPen prides itself on the personalization of its in-person educational model, so distance learning had never previously been explored. "It isn't an accurate reflection of the industry," Comair says. "As long as the industry is in-person, we want to remain in-person as well."
However, amidst unprecedented circumstances, things changed rapidly. "The whole thing unraveled a lot more quickly than anybody expected, but we have to do what we have to do for the health of our students," Comair says.
Fortunately, several members of the DigiPen faculty who have had substantial previous experience with remote learning stepped up to the plate to offer their expertise.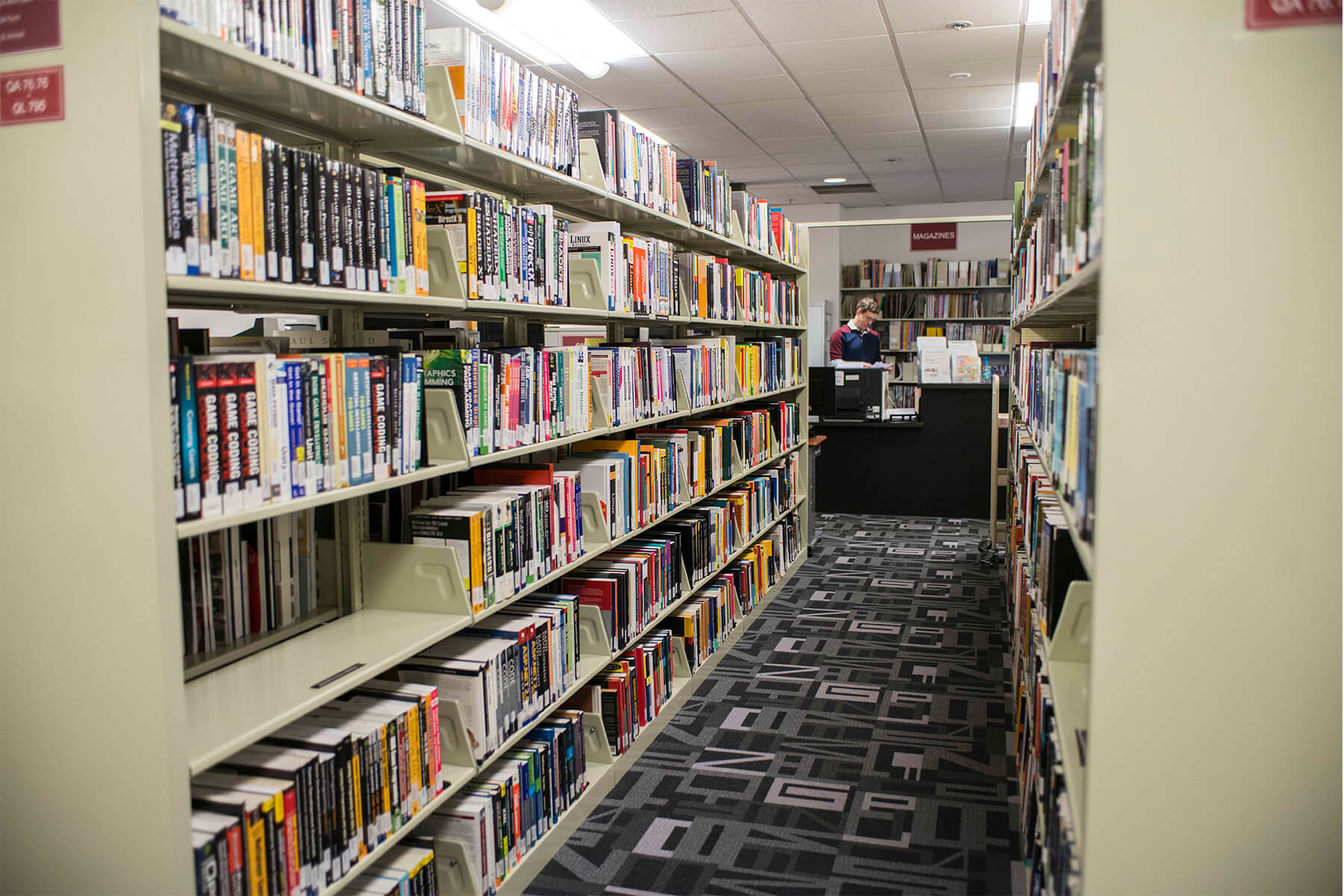 For instance, Seth Atkinson, Associate Dean of Learning Technology Resources, leveraged his previous experience at Microsoft to assist student and faculty in pivoting their classroom experience to Microsoft Teams. "DigiPen's transition was relatively smooth for how quickly it happened," Atkinson says. "We started by asking faculty members, 'What are your needs for your classes?'"
Previously underutilized, Teams now allows students to access a whole host of features that have made the online classroom experience valuable in its own way. For example, Teams automatically captions and creates transcripts of its video chats, allowing students to easily search and review the class content after a class ends. Screensharing has also made certain technically oriented courses much easier for faculty to manage. "Flipped classrooms" have given students the opportunity to take their education into their own hands to share their expertise with their classmates.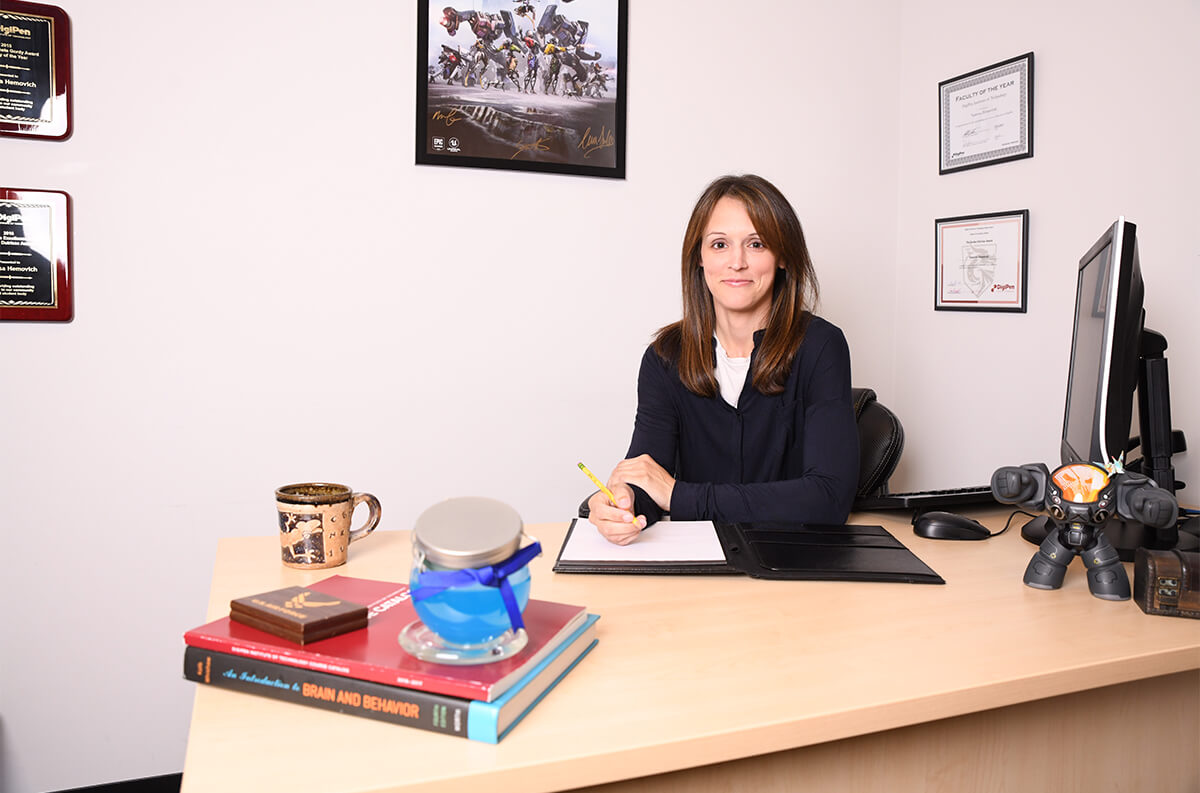 "One positive outcome among many is that students are able to access faculty more widely now. Faculty have made themselves more accessible via the online platform," Vanessa Hemovich, Assistant Dean of Faculty Development, says.
The transition, though quick, wasn't without its challenges.
"I remember the decision was made on a Friday afternoon. By Monday, every class was moved online. It was unprecedented. It was a pretty colossal thing to do," Hemovich says. "These were uncharted waters. Microsoft Teams is new to everybody. Thankfully, students gave faculty a lot of grace."
The transition to online learning will continue to be ironed out this summer. "The faculty has always had an 'all-in' mentality. With so much ambiguity, we try to be as prepared as we can. A big component right now is accessibility and inclusivity training, in addition to training for maintaining student engagement," Hemovich adds.
Accessibility has indeed proven a challenge in the transition to distance learning. Normally furnished by DigiPen's robust workspaces, some students don't have the necessary or optimal software or equipment at home to take advantage of online learning without access to campus. "Some people don't have webcams, laptops, or tablets," Atkinson says.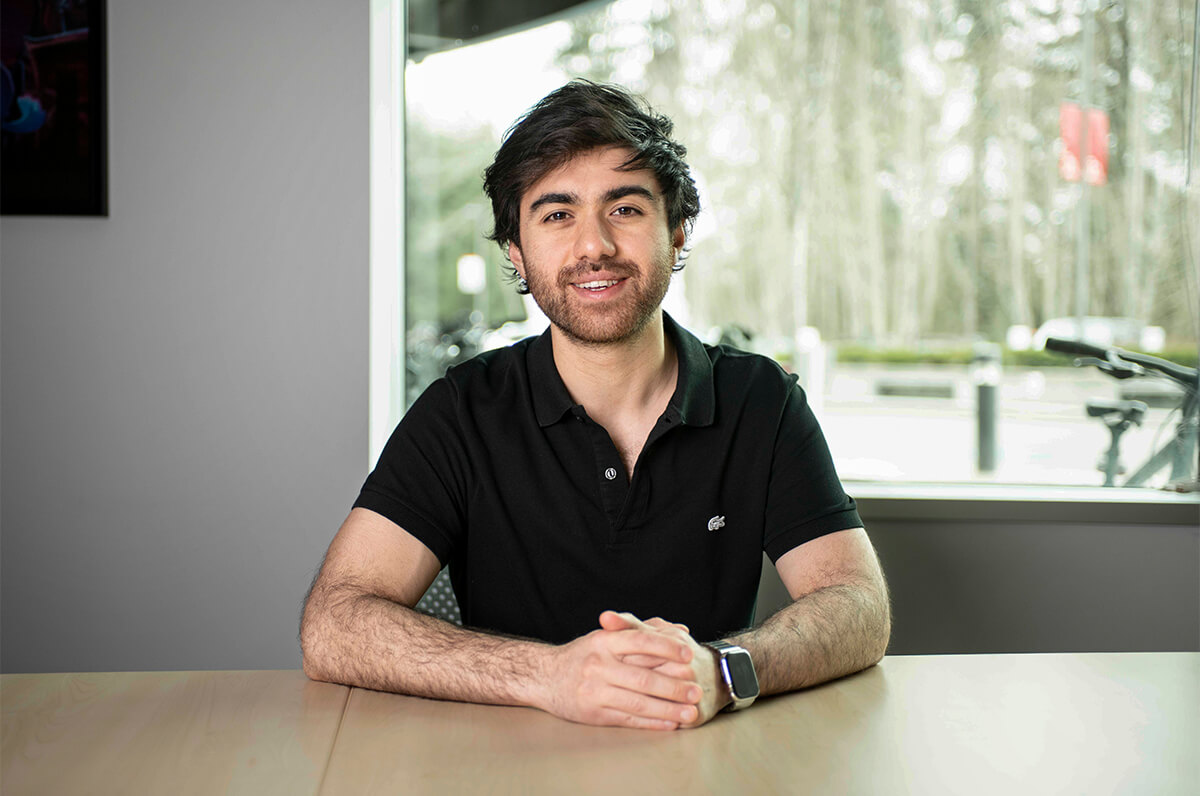 DigiPen assisted these students and faculty by ordering new supplies, such as additional laptops, cameras, tripods, software, headsets, and more. The library remains open for students to check out the textbooks and supplies they need. Atkinson has worked with his student staff to arrange a "touch-free library drop off" system, and DigiPen's new Dragon Drop grocery and food delivery program has helped with media delivery to students who live within the city of Redmond.
Many other student services, such as housing, counseling, and tutoring all remained open or were available online as well.
DigiPen also took extensive pre-emptive measures to keep its students, staff, and faculty safe. Thorough cleaning and sanitization measures have been implemented, and plenty of personal protective equipment was ordered so students, faculty, and staff who need to visit the campus can stay safe. Anybody entering the building is screened for their temperature using thermal scanning equipment.
Comair is confident in DigiPen's handling of the response to the virus and in its continued delivery of a positive, dynamic experience to its students. "We deliver an education. We deliver a return on investment for our students," he says. That doesn't change, he says, whether in person or online. "We're not too certain what fall will look like, but we feel good about our plan. We have to plan for any hybrid of online and in-person learning. No matter what, we want our staff, faculty, and students to take care of themselves first."
In the coming months, DigiPen will be undertaking a carefully coordinated, phased re-opening schedule. Learn more by watching the video below.