Raise your hand if you've played this game before: You're a geometric ship flying through space, shooting pixelated bullets at floating asteroid blocks to rack up points. It's a familiar premise, and a good starting point for describing Super Space _____. Now get ready to take that familiarity and throw it out the window.
Like most top-down space shooters, which challenge players to guide a ship through the vacuum of space, Super Space _____ (pronounced "Super Space Blank") does the same but tweaks the formula. Up to four players simultaneously control independent turrets on a single, misshapen vessel. These turrets don't just allow players to destroy incoming asteroids — the recoil from each shot is the only way to make the ship move.
Like conjoined twins (or triplets, or quadruplets), players must work together to steer clear of the bold red boundaries of the playing field and other hazards that can destroy the ship. At the same time, players compete for points. As an asteroid floats into view and a frenzy of bullets send it careening away, the point value for that asteroid rapidly increases. The last player to hit the asteroid before it explodes against a red barrier wins the points.
That's the technical description. The sensory description is utter mayhem. Random levels send in fresh waves of asteroids and debris that clutter the screen. Bullets spray. The ship spins in and out of control. Off screen, there's no telling what will ensue, whether peals of laughter, shouts of agony, or both.
Competitive Cooperation
Super Space _____ was developed by David Scamehorn and Alexander Baard, both juniors in DigiPen's Bachelor of Arts in Game Design (BAGD) program, with music by BAGD sophomore Douglas Zwick. The project started when Scamehorn came up with the idea to make a cooperative game involving multiple people controlling a singular ship. Baard liked the idea and suggested the gun-turrets-as-propulsion mechanic. Scamehorn was initially skeptical, but once he saw a prototype Baard created for a sophomore-level game design class, they both knew the concept had potential.
"Really, I wanted a purely cooperative experience," Scamehorn says, "but it's funny because the competitive element with the cooperative element actually makes it more interesting."
One of the pleasures and frustrations of making Super Space _____ was in playtesting. Because the game was built for multiple users — ideally four at a time — Scamehorn and Baard relied on DigiPen's student-run Playtesting Club to attract a playing audience. Due in part to the unusual mechanics, some early players had a hard time understanding the game.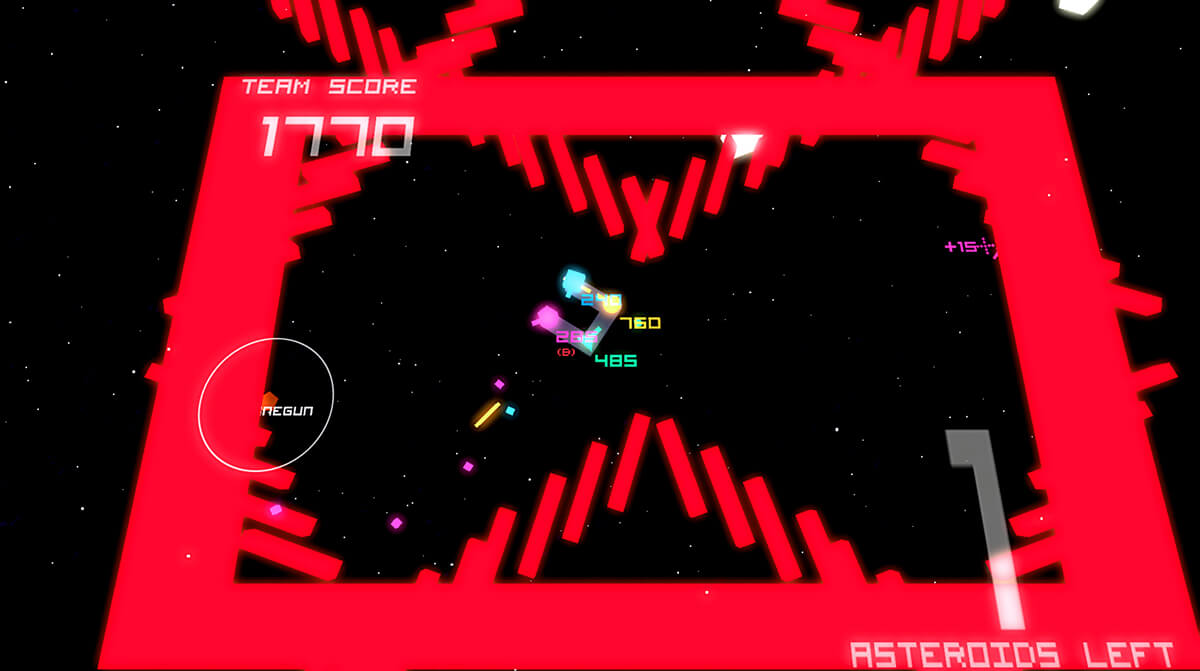 "They would instantly start firing and go straight into a wall," Baard says. "They just wouldn't get it. And so we had to iterate past that."
Scamehorn and Baard implemented a brief tutorial screen, mimicking the Apple iPhone's slide-to-unlock feature and giving players a safe way to practice maneuvering before starting the first wave. They also introduced weapons power-ups that helped reinforce how players were competing with each other even as they worked together to survive.
I wanted to make a game where the goodwill of others could be exploited by people who were just in it for themselves."
But where do players draw the line between competition and cooperation when a single crash ends the game for everyone?
"Sometimes what would emerge is there would be three people who are totally gung-ho about scoring points, and they would just compete," Zwick says. "And the fourth person, this poor sap, is just trying to survive, and they end up with the lowest score."
The humor isn't lost on the developers, and when the final scoreboard pops up, the game doesn't hesitate to poke fun at the person in last place.
"I wanted to make a game where the goodwill of others could be exploited by people who were just in it for themselves," Baard says.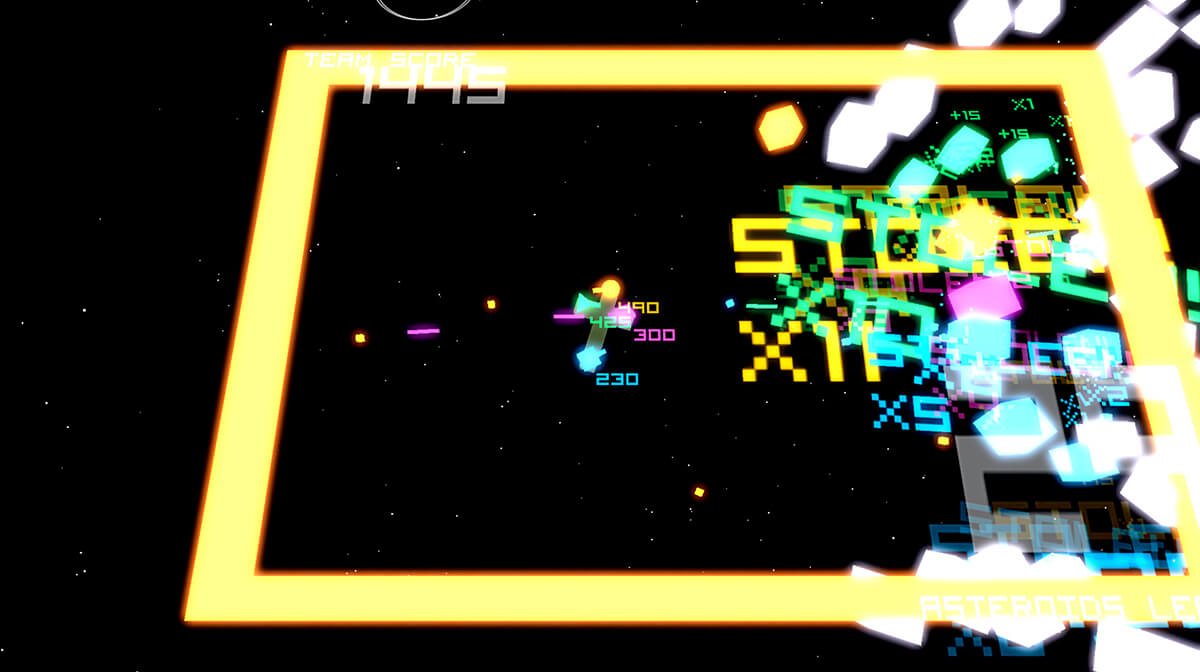 To IndieCade and Beyond
Last fall, Super Space _____ was selected as a finalist at the IndieCade Festival in Los Angeles. During the event, the team had a chance to demo their project to a festival audience of fellow gamers and developers.
Among those who stepped up to play was Steve Russell, developer of not only the first space shooter, but one of the first computer games ever made, 1962's Spacewar!
"He played our game, and he was pretty good at it," Zwick says. "He'd been doing this since before our parents were kids."
This is the least graceful thing you could possibly have is the ship in our game, which is constantly smashing into things."
On January 7, the Independent Games Festival announced the nominees for its Main Competition categories. Super Space _____ was nominated for the Excellence in Design award. (Another DigiPen game, Perspective, is a finalist for the Technical Excellence award.)
The nomination is particularly affirming for a team made up entirely of designers. Unlike many students in the BAGD program, who join with larger game teams comprising artists, programmers, and music and sound design majors, Baard, Scamehorn, and Zwick decided on a project completely within their own scope of technical knowledge and expertise.
Whereas DigiPen computer science majors program their own graphics engines as an academic requirement, the Super Space _____ team built their game using the Zero Engine, a proprietary set of tools developed by DigiPen's in-house Research and Development team. With that piece of the puzzle already in place, Scamehorn and Baard had a tremendous head start in designing their game experience.
As a hobbyist graphic designer, Scamehorn used the game as an opportunity to hone his graphical skills, which led to its abstract and minimalist visual style, relying largely on color to help players understand the game's rules and concepts.
Lend a bit more consideration to design, and find high-powered designers that will prototype the game in parallel."
For the music, Scamehorn and Baard initially used a rendition of composer Johann Strauss II's "The Blue Danube." It was a humorous nod to the film 2001: A Space Odyssey, in which the classical waltz famously complimented the image of objects moving serenely through space. For Zwick, a chiptune artist, the irony was brilliant.
"This is the least graceful thing you could possibly have is the ship in our game, which is constantly smashing into things," Zwick says. "That is delicious to me, and I love that. And they were looking for someone else who could make a more unique and legit version of it."
Overall, Baard says his team's experience demonstrates what a BAGD student can do, and how designers can help other teams who are building their own engines.
"Lend a bit more consideration to design, and find high-powered designers that will prototype the game in parallel in a tool like the Zero Engine," Baard advises. "At the very least they can save your team time, and that's incredibly useful."