Even before its public release, Sony Santa Monica's God of War was already being hailed by many critics as a masterpiece.
"The atmosphere the last few weeks in the studio was ecstatic," BA in Game Design graduate Ryan Baker says. "I remember people watching the reviews pour in online, and someone shouting '95!' from their desk when the rating average jumped," he says, referring to the game's Metacritic score.
Today, that score has earned God of War the distinction of being the highest rated game of 2018 on any platform. To celebrate, the studio gave its employees some much-deserved swag — a God of War art book, God of War Funko Pop figurines, God of War socks, and a rune-emblazoned God of War PS4 controller.
"I bought the ax myself though," Baker grins, referring to a prop of the weapon used by Kratos, the game's protagonist.
The 2017 graduate, who landed his first job out of DigiPen as an associate technical systems designer at Sony Santa Monica, came on during the final year of God of War's development, which began back in 2014. Despite his relative newcomer status in the industry, Baker was surprised at how much of his input and ideas made their way into the final product.
"It was really cool how much of a voice I had there, how listened to I was, and how ideas I had would actually end up getting implemented into the game," Baker says. "I didn't expect that at all. I figured I'd come in and do some grunt work, being the junior designer there. But that wasn't how it was at all."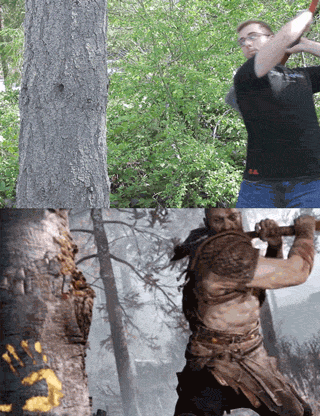 Long before he landed his first professional design role, back when he was still in middle school, Baker says his first game projects involved creating mods for some of his favorite PC games at the time.
"I was big into Warcraft III tower defenses back then and would create my own custom mods that were variants of them," Baker says. "Like, 'Oh, I'll do a soda-themed mod where the Mountain Dew tower is the poison tower because it's green.' Things a middle school kid would think of."
Baker soon found himself diving deeper and deeper into various titles' custom game modes, sparking his early interest in game design. Working on his DigiPen team game projects like N.U.T.S. Forest FriendZ, Binary, and Shattered Empires helped him pinpoint exactly which area of game design he was most passionate about: systems design.
"I found out I really liked tinkering with questions like, 'How do I want the spawn logic for these enemies to work?' or 'What randomization methodology do I want to do to tailor the game towards different difficulties?'" Baker says. For a systems designer, duties can include everything from building foundational game functions like combat, mission systems, and game modes from the ground up, to tuning ever-changing variables like inventories, experience points, and currency.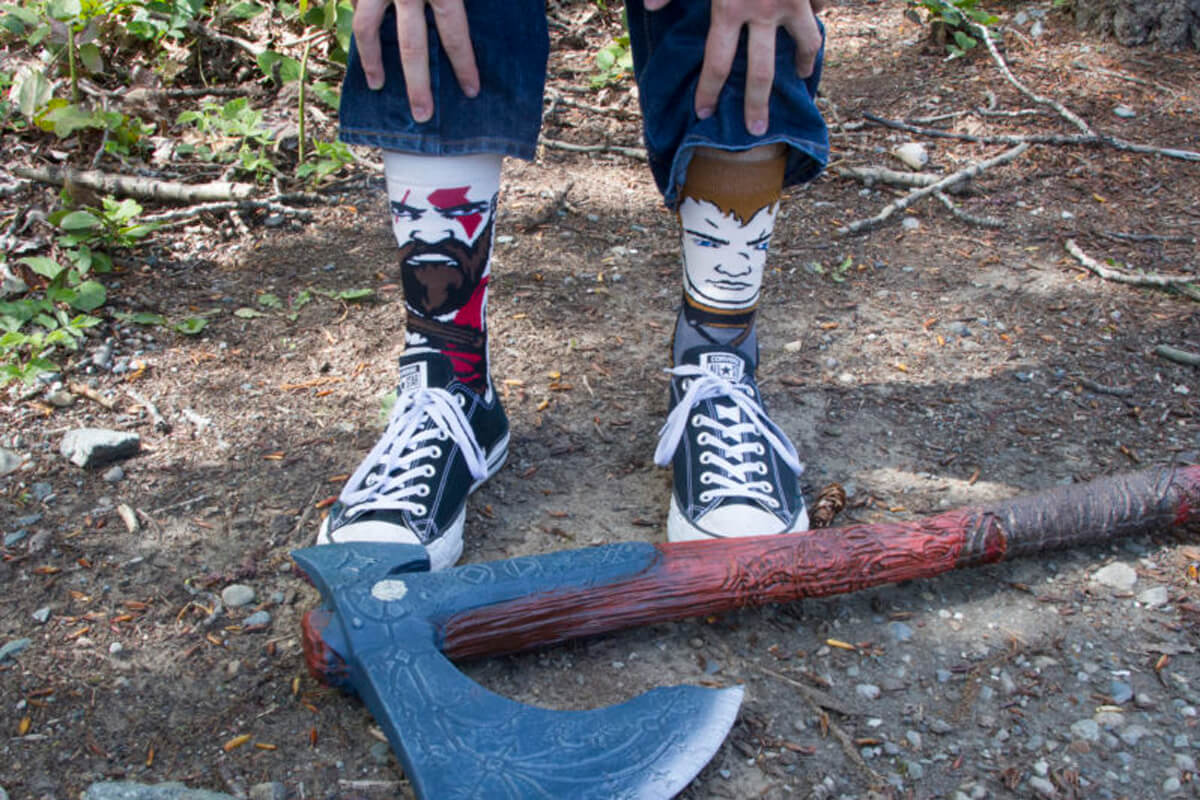 When Baker joined the God of War project, he was placed on the game's progression team, where he worked on the economy, itemization, and reward systems. That meant managing factors like the amount of in-game currency you get for killing enemies, how you're rewarded for completing quests and finding chests, how that scales throughout the game, and where items are placed. Overseeing how players' stats and abilities function and scale as they become more powerful was also a large responsibility, something Baker and his team wanted to ensure was balanced and met Sony Santa Monica's overarching design goals regardless of how the player chose to approach the game. While those systems affect the entire game, Baker got the chance to create the specific progression system for the game's optional Niflheim realm, a challenging maze-like area players can grind through for rewards, all by himself.
The 2018 God of War marks a significant departure from its predecessors in a number of key ways, most notably with its focus on Norse — as opposed to Greek — mythology. The story itself has also matured, with protagonist Kratos now playing the role of father and protector to his young son Atreus.
Also, in addition to the game's key focus on action and combat for which the series is known, the new title infuses role-playing game (RPG) elements into the game for the first time in the form of a skills progression and customization system. Figuring out how to layer that brand-new progression system on top of the game's core combat became one of Baker and his unit's big challenges.
"We looked at games like Nioh, Nier, and Breath of the Wild that have successfully hit that cross between role-playing games and actions games, took ideas from there, implemented them in our own way, and tested the water to see if they could fit," Baker says.
Through their research, the team discovered that small, subtle customizations went a long way towards letting individual players approach the game in a manner they preferred.
"While there are different weapon loadouts that change your play … the core combat from the get go plays very similarly throughout [the titles we researched]," Baker says. "You just tailor it to fit your own personal play style."
Given that God of War's ax combat had already proven a success in playtests, Baker and the progression systems team identified three unofficial "player archetypes" and set out to balance the experience for each of those types — allowing players to flex their favorite elements of the combat system using enchantments, talismans, gear, and a skill tree.
For fans of the series' traditional combat, for example, there are skills and progression rewards that focus on strength and brute force. "[You] just hit things really hard … and that works," Bakers says. "Wizard" type players can boost Kratos' specials, speeding up their cool-down rate to the point that he can clear enemies largely using flashy Runic attacks. And for the "defender" types who like to wait for the right moment to strike, players can focus on skills like the shockwave stun attacks and defense boosts. "Defensive builds won't be able to output much damage," Baker says, "but with the stun caused by melee attacks and Atreus, they'll still be taking enemies out left and right." While the combat systems team created the actual fighting mechanics and the gear to supplement it, it was up to Baker's progression systems team to consider where and when players should get access to that gear, and how stats should be distributed to round out all three potential archetypes' experiences.
Despite the many changes, God of War's fresh approach seems to have paid off, earning perfect 10-out-of-10 review scores from the likes of Polygon, IGN, and other outlets. One day prior to the game's release, a video of God of War director Cory Balrog crying tears of joy into the camera after seeing the positive reviews went viral. It was, for many viewers, a touching reminder of the human passion and dedication that goes into creating high-profile games.
"Cory is one of the most genuine guys I've ever worked with," Baker says. One of the hardest parts of leaving the studio, he adds, is "how cool all the people at Sony Santa Monica are."
Now that God of War is officially out on shelves, Baker is returning back to Washington state for a new job at Sucker Punch Productions, where he'll work as a systems designer on the upcoming samurai game Ghost of Tsushima.
In the meantime, he's enjoying all the God of War memes his friends have been collecting and sending him, many of which riff on how often Kratos bellows "Boy!" when talking to his son. When asked if his own dad is proud of his work on what is now one of the highest rated games (which also happens to be about dads) of all time, Baker says, "My dad is proud. But I think he's just mostly proud that I have a job."