DigiPen instructor Jeremy Holcomb has a long history with game development.
As an 8-year-old boy, he used to draw up mazes and visual puzzles for a series of community magazines that his parents published and distributed to local neighborhood businesses. He created a role-playing game for the students on his daily bus route, and at age 12 he invented his first board game.
Holcomb also recalls being introduced to Magic: The Gathering as a teenager, back when both the game and its publisher were still largely unknown.
"I traded Magic all through high school, all through college, paid for good chunks of college off of it," Holcomb says. "I loved the game, of course."
Still, Holcomb says he never really considered making a career out of games. It's just something that happened.
Most companies have a desperate need for playtesters."
As an undergraduate student at the University of Washington, Holcomb's initial plan was to study genetic engineering. He eventually switched to communications and pursued his degree with an emphasis on advertising. Shortly after college, Holcomb moved to New York, where he worked as a copy writer before returning to the Northwest.
Meanwhile, Holcomb continued to play and develop games as a personal hobby. He worked on independent board game projects and eventually began self-publishing with some friends.
"I don't think there was ever a conscious thought that said, 'Clearly, this is what I should be doing,'" Holcomb says. "You meet the right people and you go to the right parties, and you're just doing creative stuff."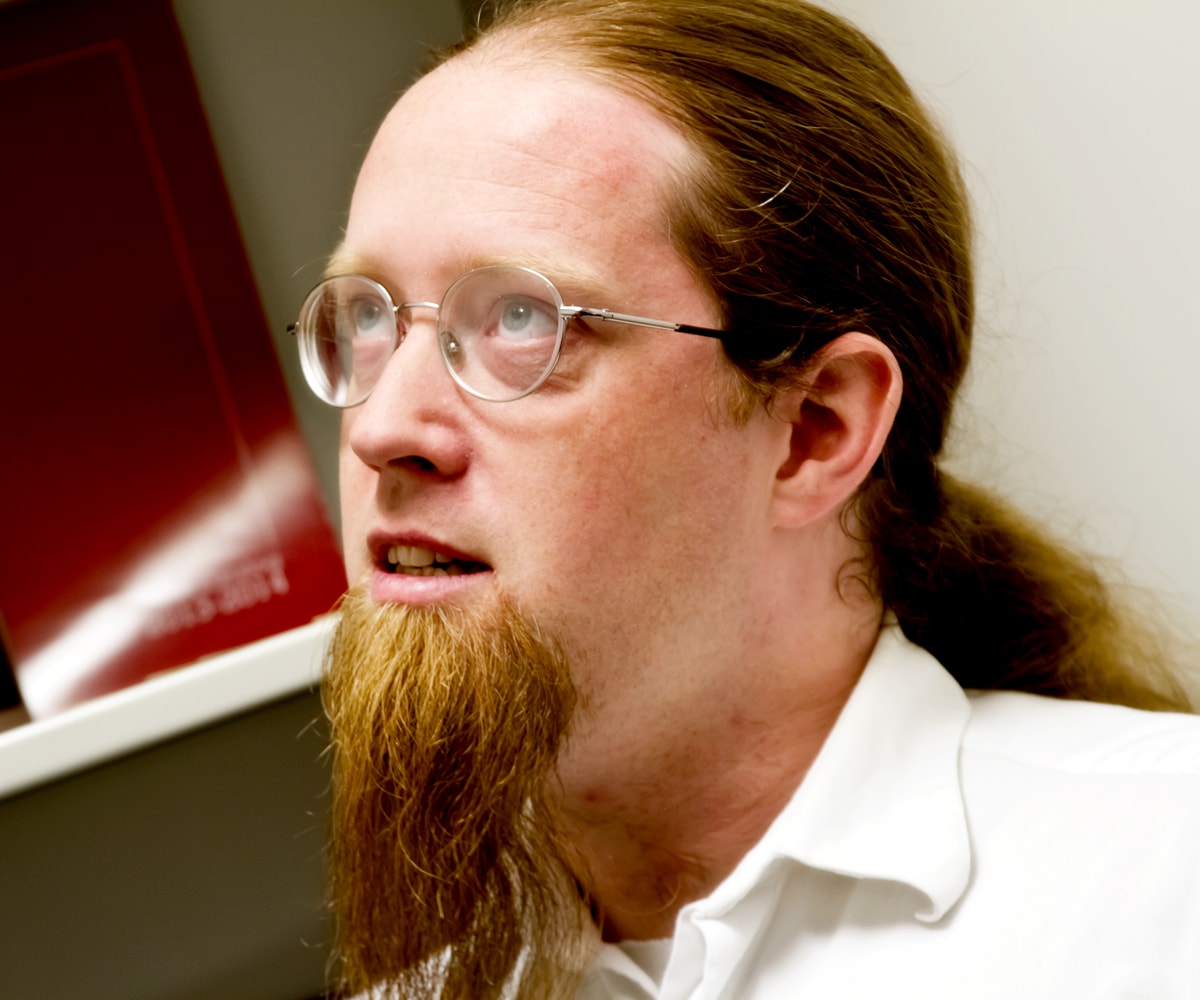 Like many game designers, Holcomb says his initial inroads to the game industry came about through his voluntary work as a playtester for other people's games.
"Most companies have a desperate need for playtesters," Holcomb says. "Almost nobody pays them, so you're usually looking at people who are fans of your game and willing to play it for free and want to see the new thing and test it out."
In his case, one of his big breaks came as a playtester for Anachronism, a collectible card game created by TriKing Games and The History Channel that involved pitting famous historical warriors from disparate time periods against one another in battle.
Now I find it really interesting to work on projects that sort of target audiences that I'm not in."
As part of his initial role, Holcomb says he was given free rein to float and test ideas for building a team of other testers. He eventually moved into a playtester coordinating role before being brought on as a full-time line developer to help with the game's design and marketing.
"That was a lot of fun — very loyal fan base," Holcomb says. "We eventually stopped making the game for marketing reasons, but the players just went, 'Oh, OK. Fine,' and kept making sets for quite a while."
From there, Holcomb segued into other positions, including lead designer roles at Alderac Entertainment Group — publisher of several card, board, and role-playing games — and Crossroads Gaming. He comes to DigiPen with close to 20 board game design credits, including The Duke, Roman Taxi, and Rorschach.
"I started designing games because I liked playing games. A lot of my early stuff was designing the sort of games that I would like to play," Holcomb says. "And now I find it really interesting to work on projects that sort of target audiences that I'm not in."
It's always difficult to get into anybody else's headspace."
Holcomb has spoken on several gaming convention panels and previously taught a game design class at the ASUW Experimental College at the University of Washington.
As the newest faculty member to the Department of Game Design and Production, he teaches GAT 210 and GAT 211 and will assist with other classes. Holcomb says he's particularly looking forward to teaching students how to better playtest their games.
"It's always difficult to get into anybody else's headspace. And it's one of the reasons that I encourage students — with all of their projects — to just go put it in front of other people," Holcomb says. "There is no way to sit in a vacuum and go, 'Oh, yes. This is the right answer.' That's not how it works."