When the COVID-19 pandemic initially hit Washington state this spring, DigiPen quickly shifted to a distance learning model to ensure the safety of students, faculty, and staff. As unexpected as the transition was, BFA in Digital Art and Animation program director Jazno Francoeur says the sudden switch didn't make any noticeable dent in the caliber of student projects. "Looking at the DigiPen BFA Showcase from 2020, there was a lot of really strong work," Francoeur says. "I couldn't look at it and say it was impacted negatively from COVID. A lot of the really exceptional work in the reel actually came during COVID."
Resilient as students were, art faculty have been hard at work adapting their courses to deliver the smoothest experience possible this fall through DigiPen's new online and hybrid learning models. Many instructors have taken their experiences from the spring, as well as from teaching smaller student groups online for summer courses, and used them to hone their plans for the fall. Depending on where BFA students are at in the program, they may see courses taking a number of different shapes, some familiar, some new.
Fine Arts
Students have always spent the first few semesters of the BFA program developing a crucial foundation in traditional fine arts skills, emphasizing hands-on exercises with physical media. Before diving into the software-driven world of 3D modeling, students must master figure and gesture drawing, painting, sculpture, tone, color, composition, and perspective. Translating these very tactile, observational exercises into an online model initially presented some challenges, according to Department of Fine Arts chair Rob Kmiec, who has been working with faculty to develop effective workarounds in replicating the experience.
For example, under normal circumstances, DigiPen's figure drawing classes are conducted with live models to serve as drawing subjects. In order to deliver a similar experience via remote learning, Kmiec and fellow fine arts faculty found a solution by working with the local modeling community.
"We have hired a number of our local models to be recorded ahead of time, and we will use these recordings during class meetings and for homework," Kmiec says. "We have an art studio, backdrop, cameras, and lighting at our disposal for weekly, high-quality recordings. Our models have updated contracts which include suspending nudity in favor of body suits or bathing suits, and our pay rates are significantly higher in order to reserve the option to use the videos for multiple sections."
Kmiec says the department is also creating more available sections for all fine arts courses in an effort to preserve another core element of the early BFA experience: constructive visual critique. Typically done in an in-person, group setting, art instructors offer specific, student-by-student feedback to improve the quality of their work.
"Since the traditional work will be shared digitally, instructors will take the images and do draw-overs and paint-overs via software like Photoshop and will complement the visual critique with robust notes," Kmiec says. "We haven't wavered in our commitment, and we have increased section numbers to keep class sizes smaller in order to accommodate robust one-on-one attention."
Fine arts instructors have also been provided video cameras, tripods, lighting equipment, and microphones to create high-quality recordings of traditional painting and drawing demonstrations. Some courses may require a similar setup for students as well — a tripod, camera, and access to decent lighting. Efforts are being made to direct students to inexpensive options, including tripods that work with smartphone cameras. "In having this equipment, instructors are able to observe student work in progress," Kmiec says. "This is extremely important in tracking the understanding of theory and practical application. Should this prove too ambitious and costly for the student, we will return to working with still photo uploads of work in progress."
Traditional Animation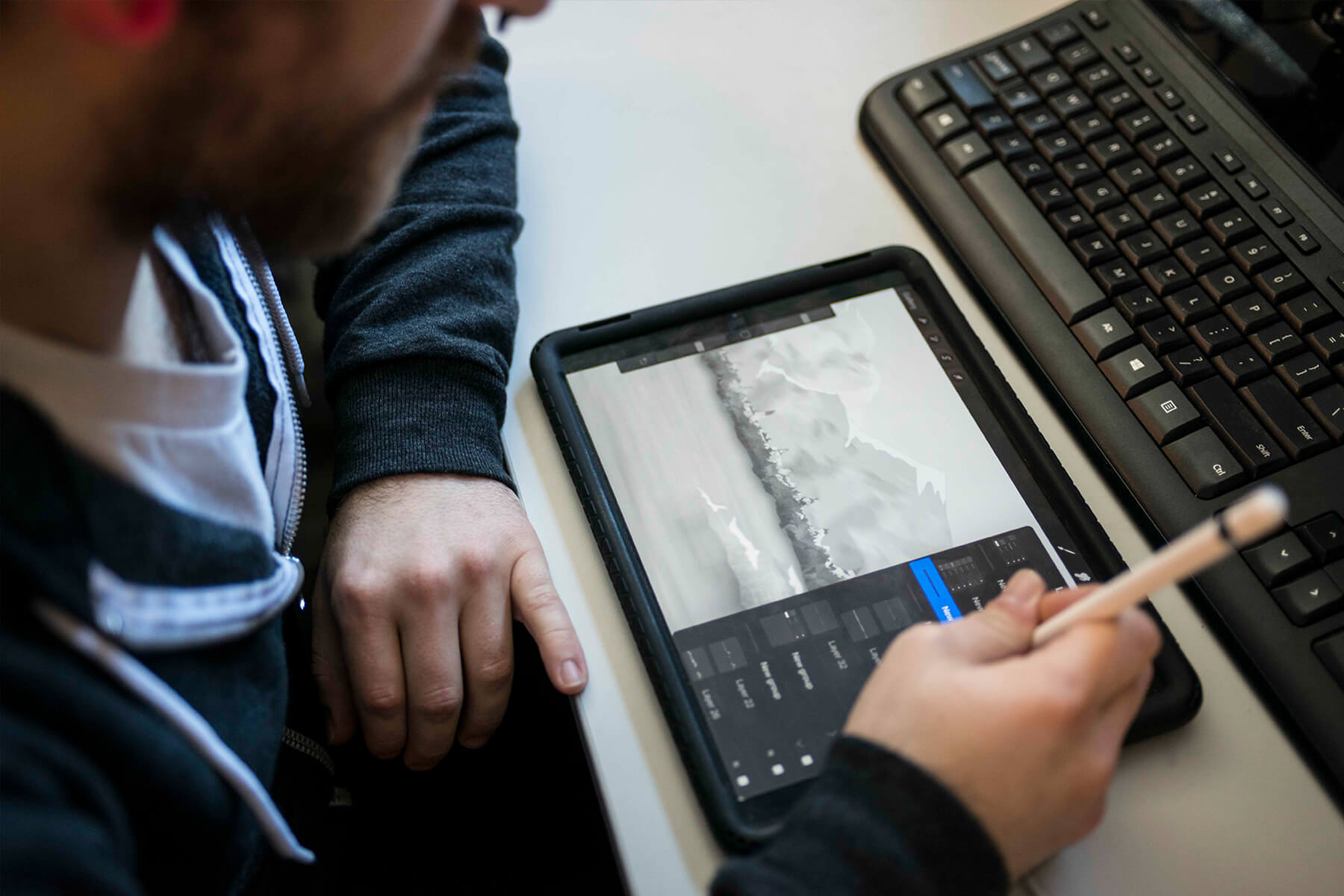 Learning the foundations of traditional, hand-drawn animation and production is another core component of the freshman and sophomore BFA experience. Students learn to animate with pencil and paper, utilizing desks with light boxes in DigiPen's animation lab to create frame-by-frame action. According to Francoeur, the shift to online learning is accelerating a change that was already in the works for the Department of Animation and Production.
"Frankly, the industry hasn't really used paper now for a long time," Francoeur says. "If you're making a 2D movie, you're using a computer. There's been this real push in the animation department for a while to go all digital anyway."
Instead of pencil and paper, students taking DigiPen's Animation Basics courses will now be required to use a digital drawing tablet and an inexpensive app called Rough Animator, which closely simulates the traditional animation workflow and experience. Those living close to campus will have access to the library's inventory of tablets and pens if they don't already own the necessary equipment. Students in DigiPen's Animation Basics courses have already had the option to complete assignments using their own tablets in the past, with instructors suggesting Rough Animator as a simple software solution. Beyond that switch, traditional animation classes will largely look the same as they did in the classroom.
3D Work and Digital Art
Students in the BFA program spend their final years focusing on 3D, moving from the physical world of traditional art and animation into the realm of digital art. "The fact that the medium is digital, it definitely works well for the department," says Department of Digital Arts chair Alain Schneuwly. In that regard, students won't see many drastic changes in the shape of digital art courses beyond a slightly recalibrated workflow, which Schneuwly says has actually had some net positive effects.
"Although all instructors enjoy teaching in the classroom, face-to-face with students, the online format has shown advantages as well," Schneuwly says. "We have instructors making themselves available to the students at times that they would typically not be able to. Clearly, technology and the digital format has its advantages there."
Although the software required to create 3D work can be costly, Schneuwly says students don't need to worry about access, or spending exorbitant sums on their own licenses. "As soon as the courses went online during the spring semester, I personally contacted some of the software companies, specifically the software that the students would have to pay for, to ensure we were allowed to make the licenses we have purchased available to the students remotely," Schneuwly says. "We had such an amazing response from everyone offering their guidance and steps to follow, and immediately we were able to make all our licenses available to the students. Moving forward, we are keeping our licenses available to our students in the same way."
Much of the other software students utilize in digital arts courses, including Autodesk Maya, Allegorithmic Substance Painter and Designer, Unreal, and Unity, are already free for students to use at home. "Anything we use that is not free for the students is and will be available through our online portal supported by our IT Department," Schneuwly says.
On the hardware end, the library will have digital art equipment available to check out for those living near campus, including tablets, pens, and laptops with the necessary specs. Those without access to campus will need a computer capable of running the required software, and students will be provided with the specs of a computer from DigiPen's Tesla production lab as a guideline.
Animated Film Projects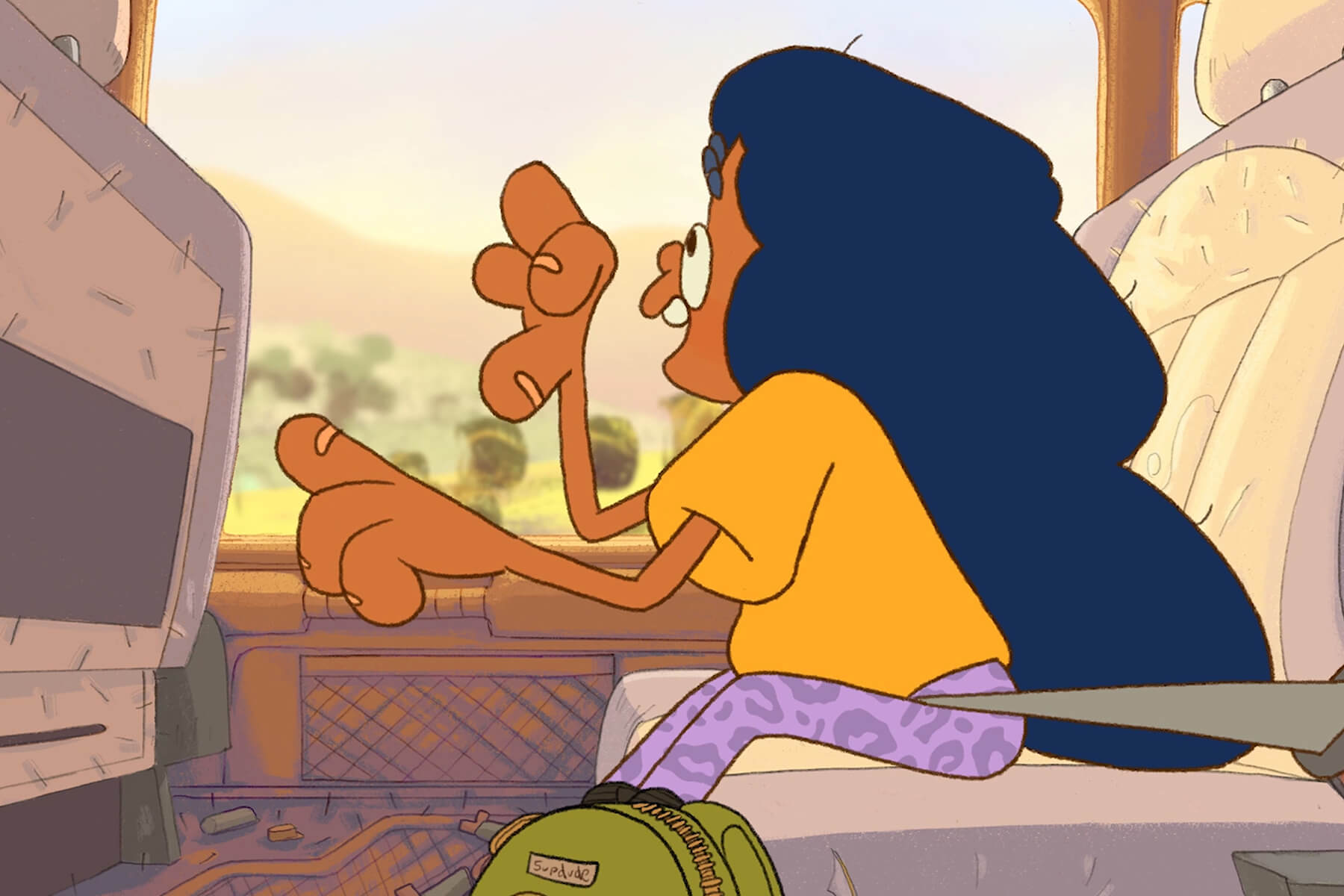 BFA students may decide to join an animated film project team instead of working on a game project during their final years in the program, and according to senior lecturer Pamela Mathues, those courses will stay much the same.
"The core content and method of critique remain, whether we are online or hybrid," Mathues says, also noting some advantages that come with using digital platforms. "The ability to record feedback has been extremely useful, giving students the ability to revisit notes and ideas that came up during class. Some of our platforms allow everyone in the meeting to draw over an image or film clip, which also goes into the recording. This way, the whole team can be making suggestions and iteration can happen more quickly."
Like Schneuwly, Mathues has also found the online model has made instructors and mentors more readily available to students to answer questions and offer expertise, more so than they would be in person. "Impromptu video chats are now a normal part of how we interact with students," Mathues says. "When we are all back on campus full time, we'll surely keep some of these tools we've developed."
The Industry at Large
Those entering into the BFA program amid a global pandemic may have concerns about the state of the job market in the field. If anything, Francoeur says, the pandemic has actually increased the demand for animation work.
"The industry itself has not had a blip," Francoeur says. "Most of my friends in the animation industry are not out of work. If anything, there's a glut of work because Netflix is going strong. Everyone is at home watching shows and playing games, and they need content. Because live action sets are shutting down, if anything, it's creating a resurgence and rebirth of interest in animation. So it's actually a happy time to be an animator, I would say!"