DigiPen graduate Heather Gross' Instagram is a cavalcade of adorable #bunnehs and #dwagons, exceedingly cute renderings of creatures real and fantastic that she sells as prints, cards, and occasionally as handmade Christmas ornaments. If she didn't give it away in her profile, you might never guess that she was the art lead on Oxenfree, the 2016 indie hit that won the Independent Games Festival (IGF) award for Excellence in Visual Art.
That's because Oxenfree, an adventure game that centers on a group of high schoolers who end up caught up in some deadly serious supernatural events, is pretty dark. It's dark in the literal sense, being set at night, but also in a more metaphorical way. The game is something of a ghost story, one in which the characters touch on some fairly adult themes through their banter and dialogue. It's edgy.
That, says Heather, is something that appealed to her, despite her overwhelming love for all things adorable.
"I had a super extreme goth streak in high school," she laughs. "Like, 'The world is dead, I'm dead, I'm gonna wear black! I hate everybody.' After that I realized it takes a lot of energy to be pissed all the time."
For Oxenfree, she says, tapping into that worked out really well.
"Oxenfree was a great avenue for me to bring out all that angst from back in the day," she continues. "I remember how that used to feel, being misunderstood — 'no one gets me!'" Also, she notes, her love for horror movies and scary, supernatural stuff outlived her temporary goth phase. Thus, she was naturally attracted to the project.
Make bunnies, not war!"
The game's setting, a gloomy Pacific Northwest island housing a defunct military base, also spoke to her soul as a Northwest native who'd grown up exploring islands just like those. When the founders of Night School Studio, Sean Krankel and Adam Hines, approached her to help with their big inaugural game, she was already on board.
"I spent most of my summers in Oregon," she says. "What they described you would do in the game is just what I loved doing. Exploring dilapidated nonsense and being like, 'Ooh, what's this?'" She agreed to be the game's art lead, and once she and lead developer Bryant Cannon signed on, the tiny team got right to work.
Their initial timeline was a year, and they didn't go too far over that. It helped, Heather says, that Sean and Adam had a pretty good idea of what the story would be from the get-go — a supernatural coming-of-age tale — but it evolved a lot from that simple idea. They were, however, able to give Heather plenty of guidance on the aesthetic they had in mind.
"Sean and Adam gave me a lot of reference to work with," she says. "They also gave me a lot of characters from TV shows to work with too, which was really helpful." Freaks and Geeks was one of those, and one she found herself relying on heavily, she says.
"The characters in that show were so relatable that they reminded me of people I knew in my teenage years," Heather says. "Those people they reminded me of actually ended up inspiring the look of each Oxenfree kid (but I'll keep their identities a secret!)."
Initially, she says, the team members thought the game would have a very cartoonish look, citing two of Irish animation studio Cartoon Saloon's films —Song of the Sea and The Secret of Kells — as influences. However, they quickly realized the game's story demanded something more versatile.
That was another really fun part of the small team. You all get to say what you really like about it. When you put all those opinions together I think it evens out really well."
"We kind of needed a style that could switch from 'Oh, this is so nice' to 'We're gonna die!'" she says. That led her to the artwork of Tyrus Wong, the recently deceased Chinese-born artist most famous for being the lead artist on Bambi.
"His work on Bambi was great because it's a story about this cute little adorable deer coming of age and learning that the world is not such a great place," she says. "People die, fires burn your home. And I just thought that his work on that movie feels super raw in a way, but also very soft and gentle too. I really wanted to try and bring that to the style."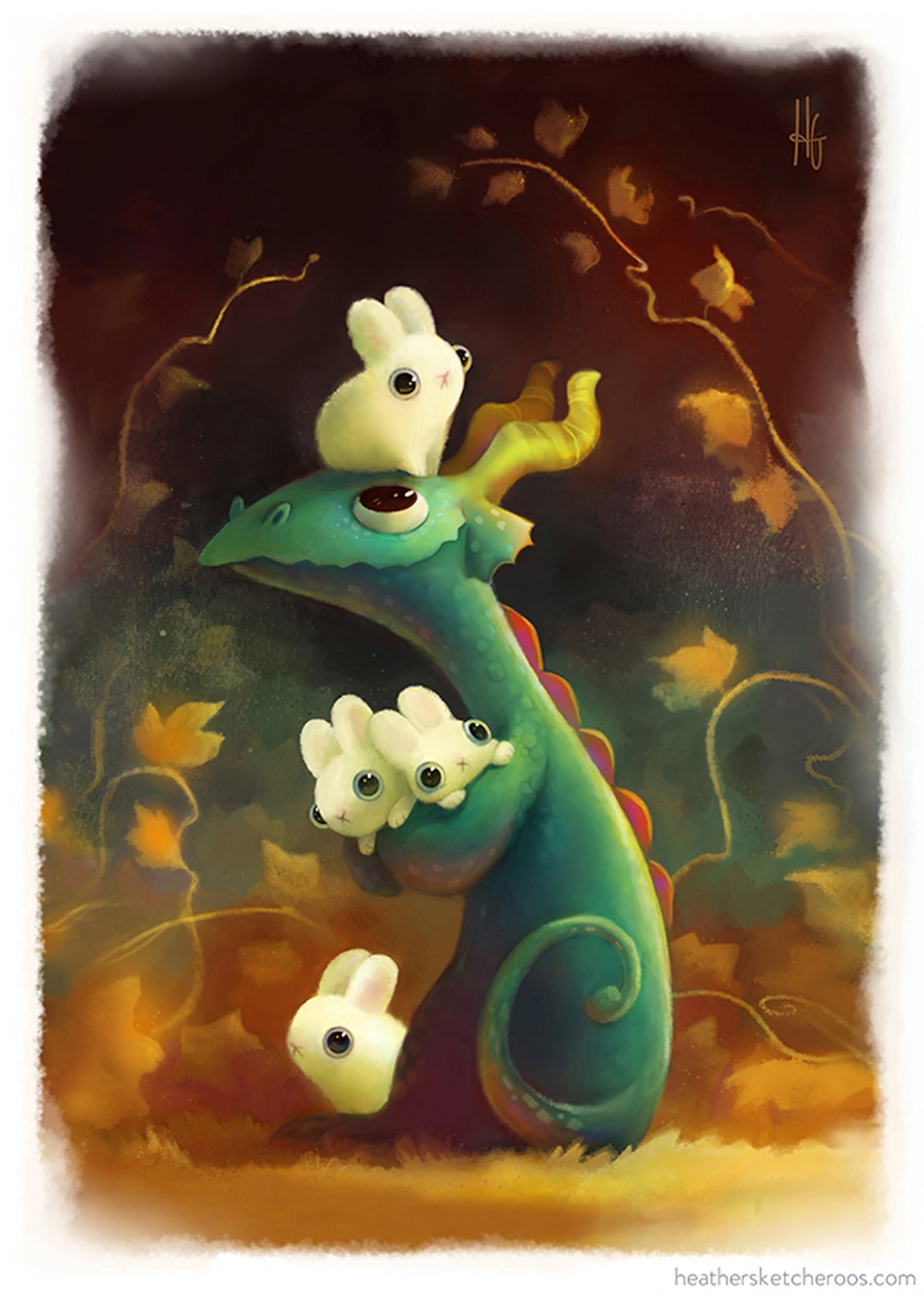 Apparently she succeeded, as evidenced by Oxenfree's IGF win. That, Heather says, was an unexpected honor, as she'd spent most of the late development stages panicking that everyone would hate her art. Obviously, she was wrong. She also panicked about having to get up on stage in front of hundreds of people to accept the award.
"I was like, 'Please don't let it be Oxenfree,'" she jokes. "But then I also wanted it to be Oxenfree!"
Ultimately, she says, she was happy for the opportunity to speak up.
"The fact that I could go up there and say, 'I get to do what I love and so can you!' was really cool," she says. "I just would like to inspire people to be brave and do exactly what they want, because I didn't do that right out of college."
Indeed, Heather didn't enter the world of indie games right away. Her first job, after graduating in 2011 from DigiPen's BFA in Digital Art and Animation program, was at a small startup making interactive iPad games, where she got her first taste of the indie environment. After that, she did a stint at Disney Interactive, a small game and animation studio within Disney. That's where she met Krankel, a coworker who eventually invited her to join his startup venture at Night School Studio.
When I came to DigiPen, it felt like the first time I was being challenged in a way that actually interested me."
Looking back, she says, she loved the indie work environment at Night School for how it fostered a lot of close collaboration, creative freedom, and feedback across disciplines.
"That was another really fun part of the small team," she says. "You all get to say what you really like about it. When you put all those opinions together I think it evens out really well."
Since finishing Oxenfree and winning the IGF award, Heather took some well-deserved time off to explore Japan, where she cited a visit to the island of Ōkunoshima as a major highlight. The island was a former chemical weapons testing site for the military but is now cleaned up and teeming with bunnies, which provided plenty of life studies for her current work.
"Make bunnies, not war!" she jokes. Besides all the cute bunny art she's selling via her online store, Heather's also doing plenty of freelance work on the side while considering her future options. Another Night School game is definitely one of them, she says, and she's still affiliated with the studio.
After the success of Oxenfree, things are looking pretty bright for Heather. And she says DigiPen has a lot to do with that.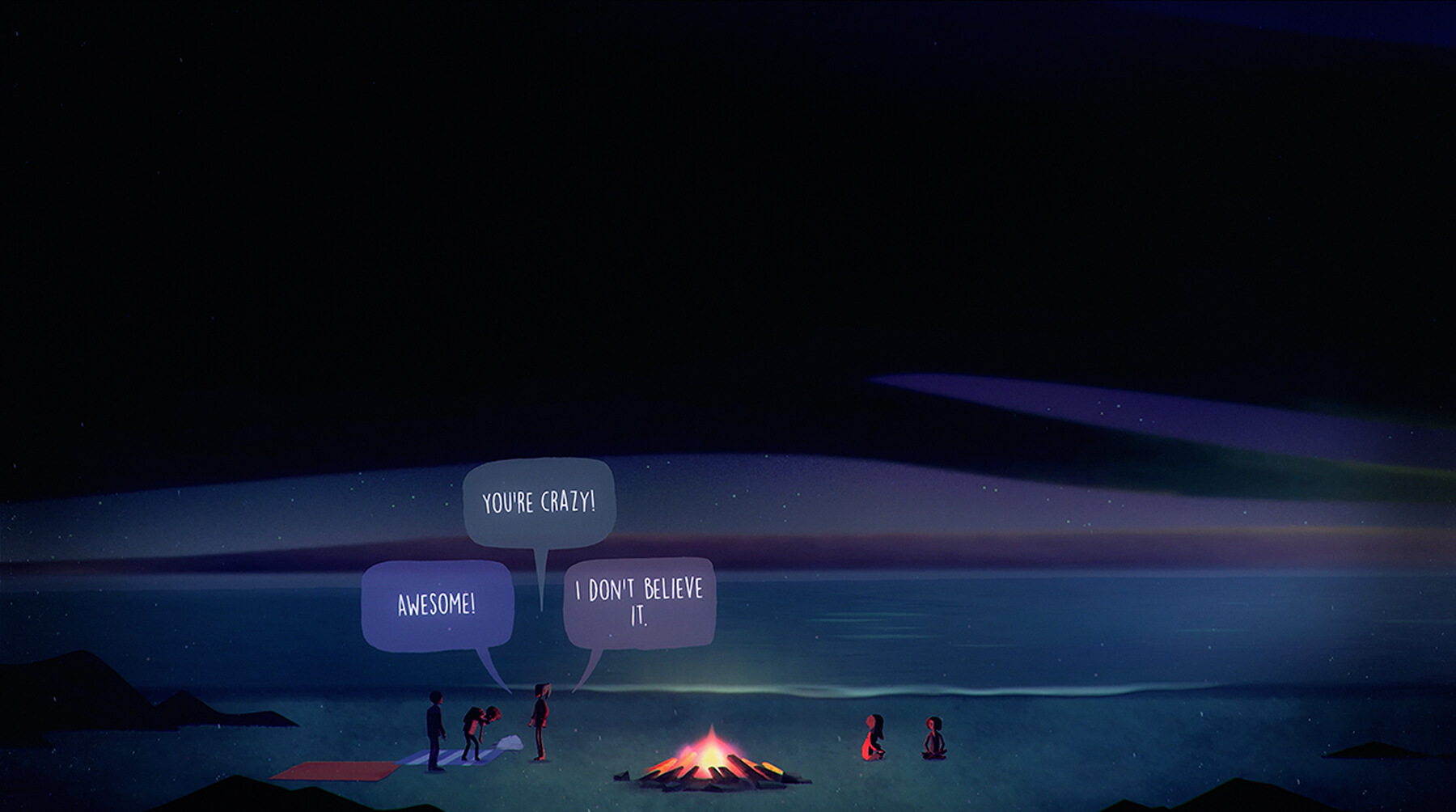 "When I came to DigiPen, it felt like the first time I was being challenged in a way that actually interested me," she says. "It wasn't like, 'Go read this textbook, write down all the notes, take this test, now you know history!' That's not really what I'm interested in. I want to make people feel things!" She also had high praise for DigiPen's art faculty, whom she credited for both trusting in her ability and pushing her to its limits.
"Here, if you start to slack, even if it is because you're kind of tired … they care for you," she notes. "They won't let you get away with not doing your best, because they know you're better than that."
She also had high praise for DigiPen's practice of allowing students to earn credit for doing work in the field. She worked as a playtester at a Redmond-area game studio the summer before her senior year and made an extra effort to talk to the art staff there, some of whom were kind enough to review her work and give her simulated assignments.
"It is absolutely key to know what is happening in the industry from someone that is still actively working in the industry you aim for," she urges. "If I had not gotten that experience and had an open dialogue with professionals in my desired field before I jumped out of the nest, so to speak, I would probably not be where I am today. So go that extra mile!"
You can see more of Heather's work at www.heathersketcheroos.com