V1 Interactive's debut title Disintegration, out now on PS4, Xbox One, and Windows PC, combines two genres that typically have nothing to do with one another — the first-person shooter and real-time strategy game. Fittingly, V1 junior sound designer and 2019 DigiPen graduate Thomas Parrish says he recently combined two objects that typically have nothing to do with one another in order to create a sound effect for the game.
"I'm always thinking of how to give these sounds V1's original flair, so for this projectile sound I was assigned, I actually took my pizza cutter from my kitchen and bowed it with a violin bow," Parrish laughs. "It sounded really cool! You never know what you're going to get with sound design." Before landing on the pizza cutter, Parrish experimented with bowing a slew of other nearby metal objects, including the side panel of his computer. That adventurous, curious spirit has proven vital during his seven months working at V1 Interactive, where his contract position as a sound designer recently turned into a full-time job. During his time at the studio so far, Parrish has already worked on everything from weapon sound effects to character foley, ambient environmental audio, subtitling, voiceovers, and more.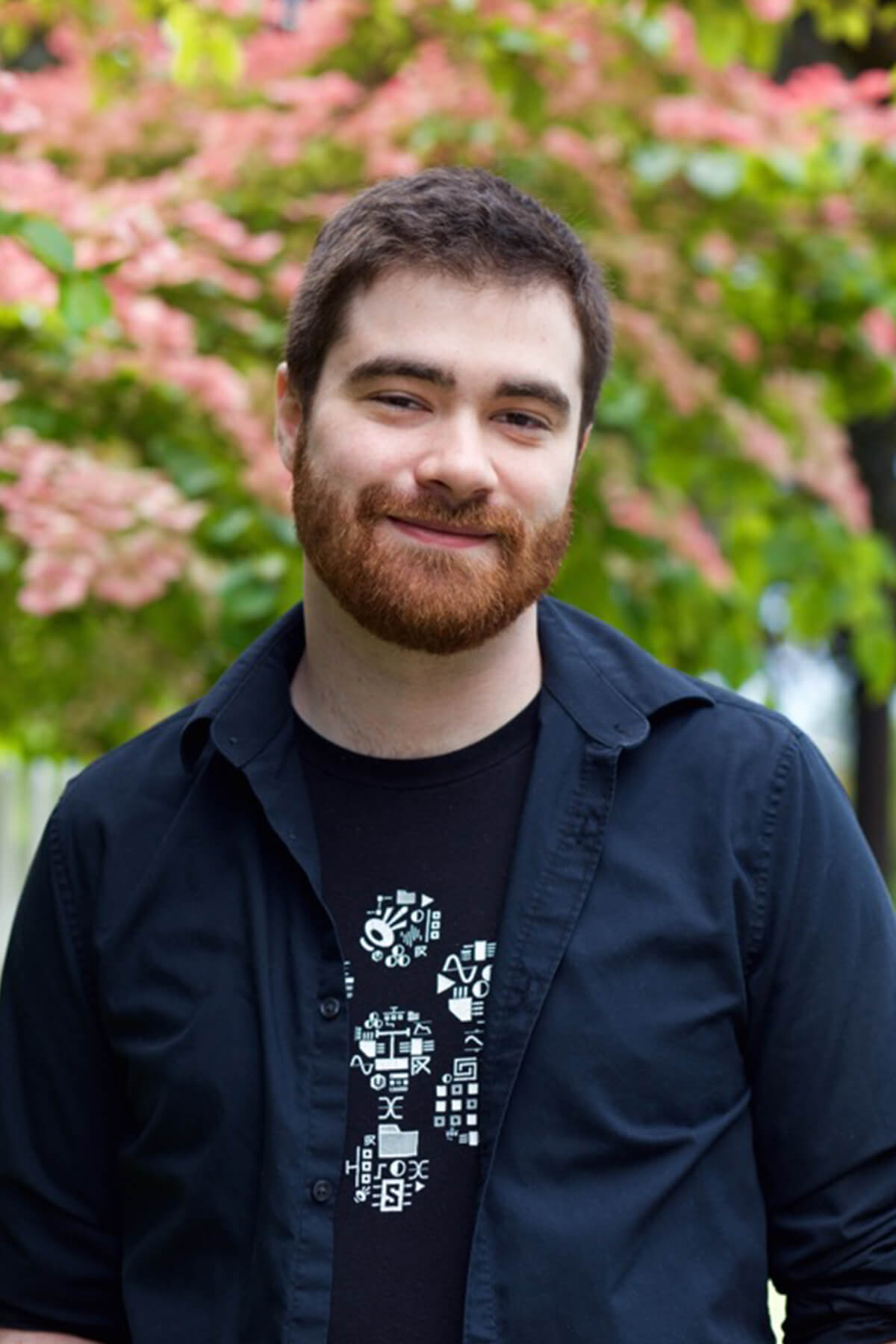 "Working with this team has been amazing, and I couldn't be happier to be here," Parrish says.
Founded in Redmond in 2016, V1 Interactive is a relatively small studio, employing around 30 people. "It's really homey," Parrish says. "It just feels like a bigger DigiPen game team." Long before enrolling in DigiPen's BA in Music and Sound Design program, Parrish says one the "earlier games" that made him fall in love with the medium growing up was Halo. That personal history has made his current position somewhat surreal, given that Marcus Lehto, V1's co-founder, was also the co-creator of the Halo universe — responsible for designing its iconic hero, Master Chief. "It's kind of crazy!" Parrish says. "But even just putting the Halo stuff aside, he's really great to work with and so down to Earth."
Disintegration, a transhumanist tale dreamed up by Lehto, takes place on Earth 150 years in the future, when scientists have discovered a method to put human brains in machine bodies to avoid extinction. The process, known as Integration, is meant to be a temporary measure until humanity can reverse the damage done to the ravaged planet and inhabit their bodies again. Players take control of Romer Shoal, the Integrated leader of a band of outlaws fighting against an ascendant militarized group known as the Rayonne, whose goal is to keep humanity from ever returning to their organic bodies. While piloting a hovering vehicle known as a Gravcycle, Shoal can wage battle from a traditional first-person perspective while simultaneously commanding a crew of allies to strategically engage in ground combat.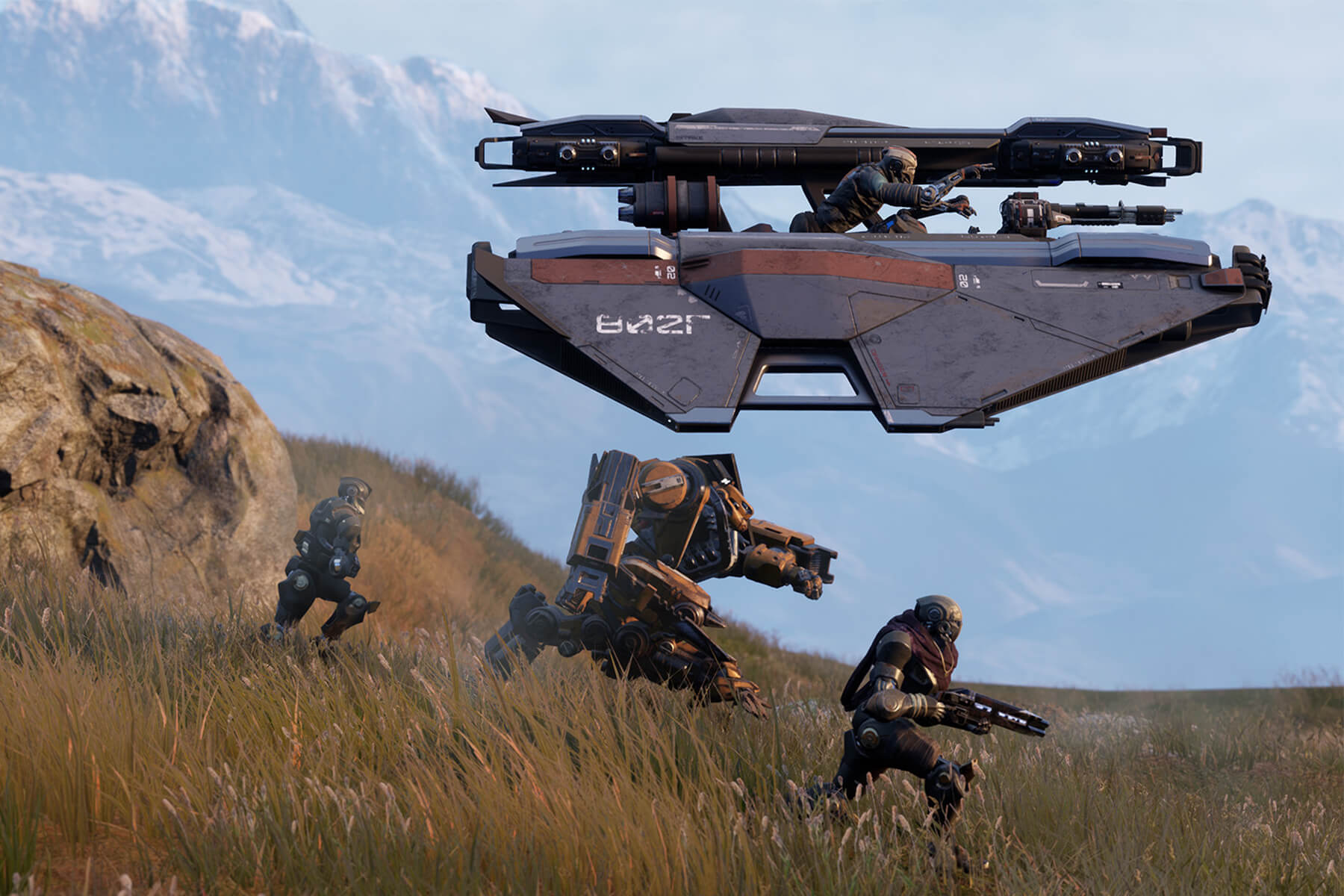 "Because it's basically two genres at once, it can get very busy with the audio mix," Parrish says. "You have to account for how many simultaneous voices we can have at one time before we take a performance hit. And from a design perspective, we really have to make sure that all the weapons and unit abilities sound distinct enough so that a player, with their eyes closed, can tell what is happening."
On a day-to-day basis, Parrish works closely with V1's lead sound designer, Jack Menhorn, who assigns Parrish sounds needed in the game. Sometimes the sounds will come with detailed directions. Other times, Menhorn leaves the specifics up to Parrish. "It's a sci-fi game, so there are a lot of sounds we need that don't exist in reality yet," Parrish says.
Parrish's sound prototypes often find him mixing real-world recordings with synthesizers utilizing REAPER, a digital audio workstation, to give them a unique, futuristic quality. "For instance, one of the weapon sounds was a synth layered with explosion sounds and gunfire," Parrish says, "but I added that synth to give it sort of a signature sound layer." Other assignments, like character foley, can be more straightforward exercises in recording, since sounds like footsteps and clanking metal already exist in the real world.
After taking a crack at each sound, Parrish sends them to Menhorn for review. "Then I will change it according to his feedback and just try to be on the same wavelength as him, no pun intended," Parrish laughs. "Once it's where we want it, we put it in the game and see if it's really where we want it, or if it sounds weird in context with other things."
In addition to Menhorn, Parrish also works on the game's subtitle system alongside two of V1's earliest employees, software development engineers Joe Arroyo and Connor Hollis. Both also happen to be 2015 DigiPen graduates. "It's really nice. Because we know where we all came from, there's that sense of camaraderie," Parrish says. In fact, V1 Interactive employs quite a few DigiPen alumni, including Keith Leiker, Micah Zahm, Lucas Carpenter, Chuck Martin, Nikk Golesh, Autumn Palfenier, and Joe Erskine. Beyond that fellowship, Parrish also attributes DigiPen with giving him both the hard skills and personal perspective he needed to succeed at V1. "The BA in Music and Sound Design program was great for preparing me for this job — the skills were so transferable. We use [audio authoring software] Wwise every day, and that's what we used at DigiPen," Parrish says. "But on the philosophical side of things, I think DigiPen taught me the importance of being unafraid to dive into challenges instead of shying away and saying, 'Oh, this is out of my field.'"
That perseverance has proven useful given the atypical circumstances surrounding Disintegration's release. "It's been really interesting shipping my first game during a global health crisis," Parrish says, now working at home along with the rest of the studio. Despite the challenges of remotely developing a video game, along with a few mysterious audio bugs he's had to squash here and there, Parrish says joining V1 Interactive on Disintegration has been an incredible experience.
"It really has been, no exaggeration, life changing," he says.