Since March, people around the world have been passing time each day hanging out on a haunted island. Cozy Grove, a new life-sim from Seattle-based studio Spry Fox, puts players in control of a young Spirit Scout, camping and exploring the supernatural secrets of the game's titular isle. With fishing, crafting, decorating, a cast of quirky neighbors, and gameplay synced to real-world time, Cozy Grove has been striking a chord with Animal Crossing fans. But the game puts a spin on the formula by weaving in an overarching narrative, one revealed day-by-day as players befriend the spirits haunting the island and bring color back to its initially dreary landscape.
The storyline that brought DigiPen alumna and Spry Fox senior software engineer Molly Jameson to the project is an interesting one. "I actually got the interview for my first industry job at Big Fish Games through the DigiPen Career Fair," Jameson says. Soon after her stint at the casual gaming giant, she shifted to Insomniac Games, programming a number of AAA action and shooter titles like Ratchet & Clank, Resistance 3, Fuse, and Sunset Overdrive. A far cry from those high-octane games, Cozy Grove's aims are much more low-key — attempting to instill a peaceful, meditative feeling in players. "I really enjoy how unique the design experiences are in cozy games," Jameson says. "When working on shooters, it's important to have close parity with the standards of other similar games. Non-combat driven games have less standards and more room for innovation."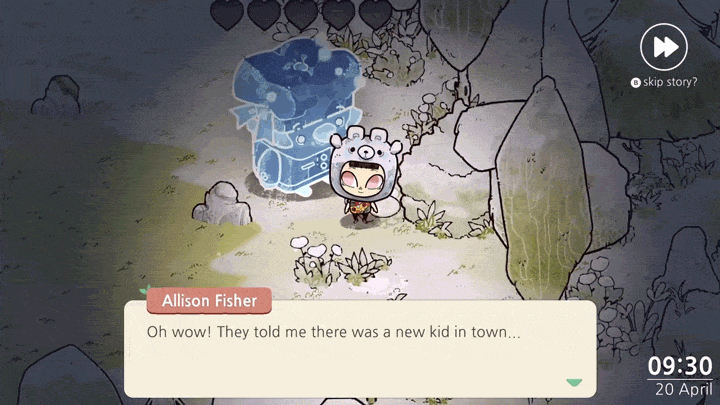 One of Cozy Grove's key innovations is its approach to advancing the story — doling out daily 30- to 60-minute quests that progress the narrative rather than letting players binge everything at once. It's a unique design choice that Polygon says turns Cozy Grove into "a ritual [to] look forward to each day." But that bite-sized spin on gameplay took a little getting used to during development. "I needed to keep taking a step back and thinking about the fact that this game I was looking at for eight hours a day is meant to be played in small half-hour increments over the course of many days," Jameson says.
Beyond the game's relaxing ritualism, fans have also fallen in love with Cozy Grove's cute, hand-drawn style. One of Jameson's key roles on the game was bringing that charm to the game's player customization, clothing, and vanity system, which she helped engineer. "In Cozy Grove we used a 2D skeleton rig, so it was easy to apply different clothing items as long as they fit an agreed upon size template," Jameson says. "It's really important to give artists flexibility to create variety with your game's tools. For instance, we originally were going to have scarves, but we realized we could also use that slot for beards and sickness masks, which we didn't originally think of."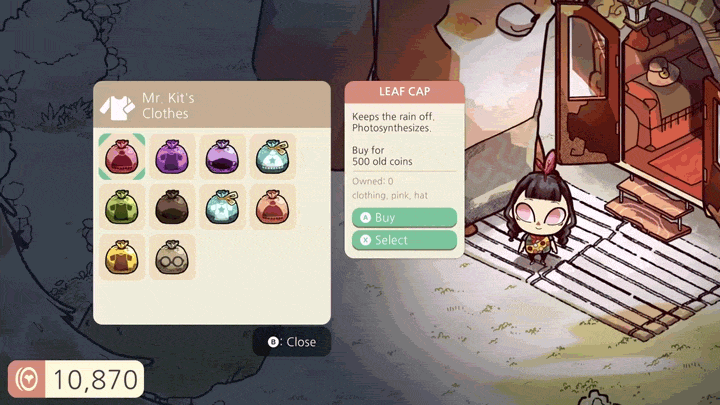 Another key in bringing variety to the vanity system was establishing a subtle set of rules to govern it. "As an example, hoods and hats look relatively similar, but hoods hide the back part of the player's hair. Similarly, full masks will hide both the player's glasses and scarves," Jameson says. Given that Spry Fox is considerably smaller than the larger teams she worked on at Insomniac, Jameson says her skills outside of programming also came in handy when working on the game's clothing and customization. "At Spry Fox, it's important that programmers have more design and artistic instincts, since there isn't necessarily an artist free at that moment to polish whatever feature you're working on," Jameson says.
It feels really great putting something positive into the world and getting that reciprocated.
Beyond the vanity system, Jameson's contributions to Cozy Grove spanned a variety of features, including localization, adaptive UI support for all consoles and platforms, and plenty of bug fixing. That latter task was made much easier thanks to her background in DigiPen's BS in Computer Science in Real-Time Interactive Simulation program. "One of the most important skills I use from the hands-on style of education at DigiPen (versus more theoretical computer science courses at traditional universities) are my debugging skills in C++," Jameson says. "I remember learning to use the memory debugger and building easy-to-use diagnostic tools and cheats into the game itself. It really speeds up development time."
But what about when Cozy Grove players do encounter glitches? "The culture and tone of the more relaxed gameplay leads to more relaxed forum posts from gamers too," Jameson laughs. "It feels really great putting something positive into the world and getting that reciprocated. For the most part, fans even remain polite when reporting bugs." Fans do seem thoroughly charmed by Cozy Grove, which has garnered glowing reviews from critics and players alike. "Creating these types of games is the reason I joined Spry Fox, whose motto is 'Making Happiness,'" Jameson says.