Between all the games shipped and animations produced, plenty of DigiPen alumni have likely seen fan art made of properties they've worked on. Brittany Aubert, however, is probably one of the few who receives fan art specifically made of her. That's because, while Aubert does work on games, she also has an alter-ego named Aubrey Edwards — a history-making wrestling referee who stars on TNT's weekly prime-time television show, AEW Dynamite. Among her co-workers are wrestling legends like Chris Jericho and Tony Schiavone, the latter of whom specifically requested that Aubert be his co-host on the weekly AEW Unrestricted podcast.
"It's really cool that people are drawn to the Aubrey character enough that they're compelled to draw fan art," Aubert says. "I get messages from parents all the time saying, 'I really appreciate having my kids, both boys and girls, see an authoritative woman on-screen not take any crap from men.'" So how does one go about becoming a game-producing, podcast-hosting, pro-wrestling referee on TV? The answer, it turns out, is part DigiPen and part dance.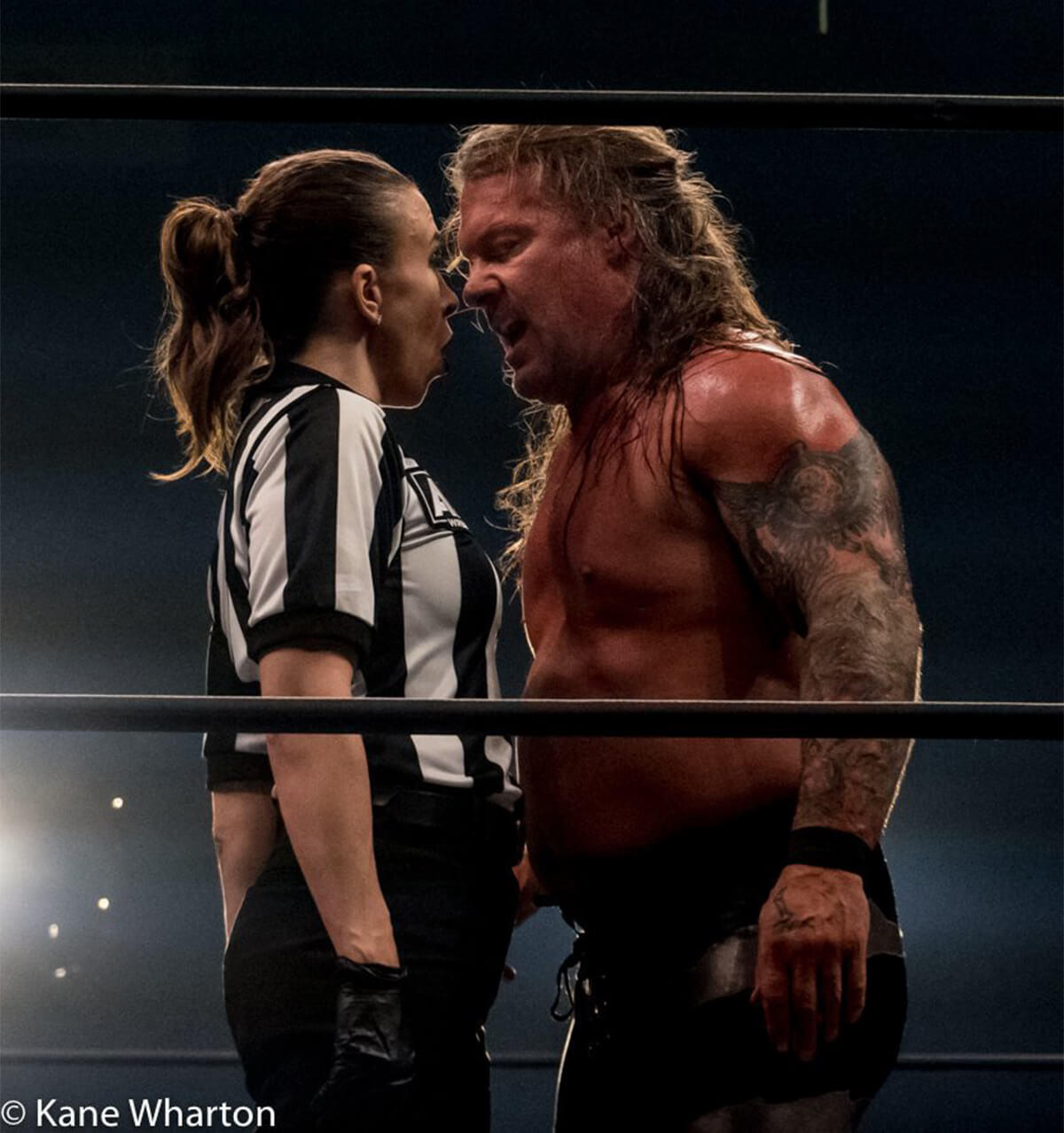 A 2009 BS in Computer Science in Real-Time Interactive Simulation graduate, Aubert came to DigiPen and dove into programming. She helped ship an impressive three Nintendo DS titles during her student internship as a tools programmer at 5th Cell, the developer behind series like Scribblenauts and Drawn to Life. Beyond writing code, however, she also found herself gravitating towards a different discipline — serving as a producer on her sophomore, junior, and senior DigiPen game team projects. "I didn't really think of production as a full-time thing until I had Rachel Rutherford as an instructor for GAM 300," Aubert says. "I found a lot of satisfaction knowing I was helping people do their best work and create something magical." After graduation, Aubert would go on to a decade-long production career, working on the Scribblenauts series, mobile games, MMOs, and even a social VR streaming platform.
Meanwhile, Aubert also loved to perform. Being a lifelong dancer, she continued to do so throughout her game production career, even starting a nonprofit dance company that worked with the Boys and Girls Club. "Then my husband, who also graduated from DigiPen, started wrestling with an indie league in Seattle called 3-2-1 BATTLE!" Aubert says. "The idea was, 'I'll dance, you wrestle, and we'll just support each other and it will be awesome.'" But as dancing started to physically wear on Aubert, she began wondering if there might be another outlet for her drive to perform. "And then in 2017, one of the referees at 3-2-1 BATTLE!, Chris Samuels, said, 'We're looking for more refs. Do you want to try it?' And I figured, 'Whatever, yeah, I'll give it a shot!'"
Even though she'd been a wrestling fan for years and seen plenty of live matches, things didn't instantly click. "I sucked," Aubert laughs, "but I kept training. Two months later, I reffed my first match and was immediately addicted. And when I do anything, I dive in 100 percent." Suddenly, Aubert was reffing an average of two indie wrestling shows every single weekend — not just in Seattle, but in Oregon and British Columbia as well. "I just decided that this is the thing that really makes me happy, so I'm going to go all-in," Aubert says. She began supplementing her Pacific Northwest appearances by flying to ref indie matches in California, Colorado, Louisiana, New York, and New Jersey, honing her skills even further. After two years on the indie circuit, she had caught the eye of Frankie Kazarian, a wrestler who had just become one of the first signees of an exciting upstart promotion with major financial backing — All Elite Wrestling. Soon, AEW reached out to Aubert with a contract as well, one that shortly turned into a full-time pro league job offer. Aubert quickly made history in her fourth AEW show, All Out, becoming the first woman to ref a main event title match on pay-per-view.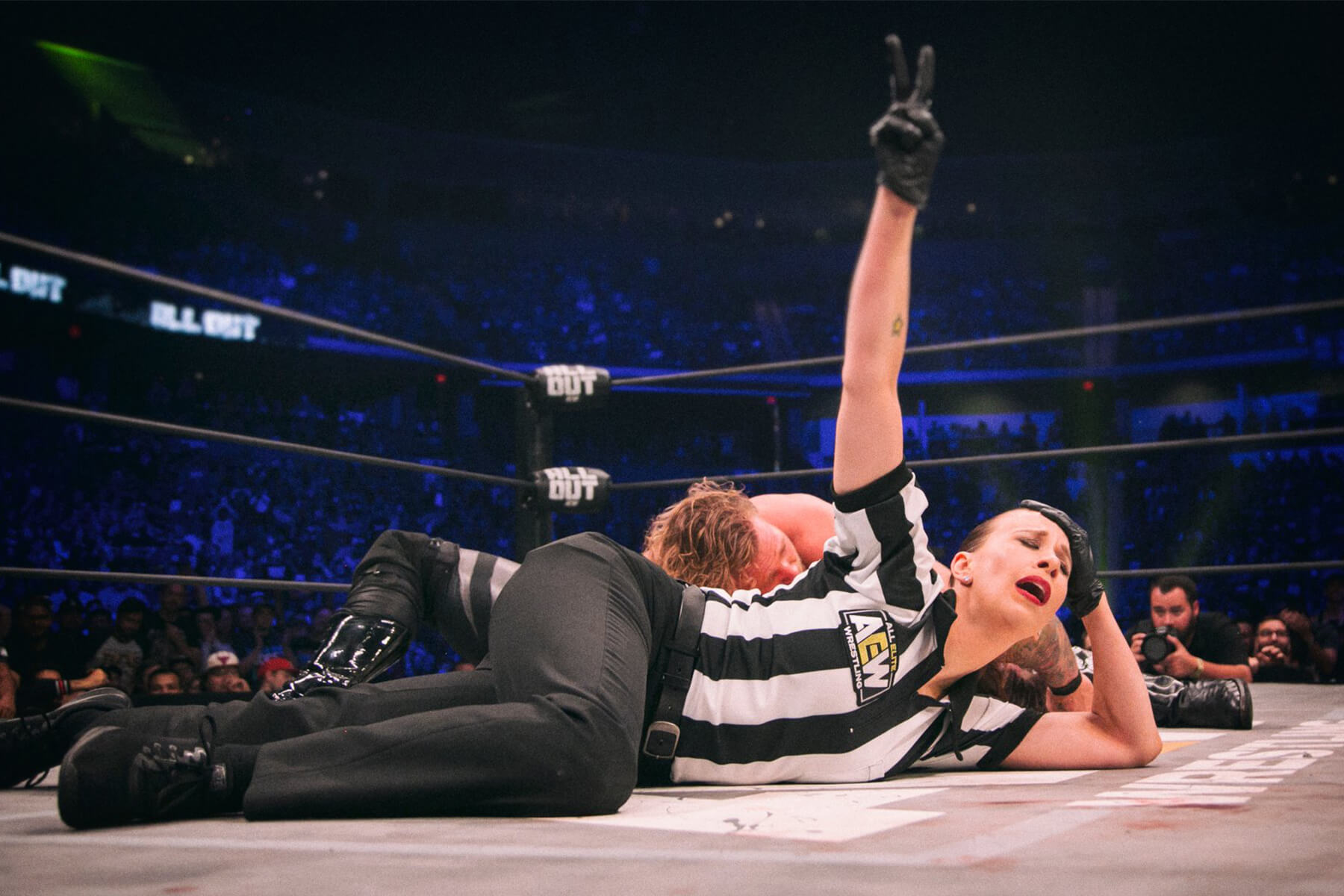 Given the emphasis on choreography, the similarities between dance and wrestling are obvious. But Aubert says reffing surprisingly clicked because of her skills in game production as well. "Funny enough, there was an incredible amount of overlap," Aubert says. "Essentially, I'm the 'producer' for the wrestling match. What they're trying to do as far as who is winning, how the match progresses, how they're reacting to the audience, everything the wrestlers are doing — I'm there to help elevate that. And much like games, it's extremely collaborative, since we're all working together to tell this story."
When Aubert initially joined AEW, she not only left the indies behind, but her game career as well. Still, it didn't take long for AEW to discover her non-wrestling skill set. "Through happenstance, I ended up doing tech support at All Out," Aubert laughs. Staff at the event were having computer trouble that the referee mysteriously diagnosed and solved without breaking a sweat. "They went, 'Wow, uh, what's your background?' And I told them, 'Oh, I made games for 10 years. Here's my resume if you want.'"
When the league decided to dive into the world of gaming with the launch of AEW Games, word of Aubert's talents had made their way through the grapevine. "It was basically, 'Oh, Brittany knows how to make video games, and we're trying to make these AEW games… Yeah, we should probably loop her in on that.'" Suddenly, Aubert's game career had boomeranged back. She became an AEW Games producer on top of her weekly duties taping matches for TV and recording podcasts.
Aubert's focus is currently on the mobile game AEW: Elite General Manager, one of three titles announced in November during a theatrical AEW Games launch event that saw Aubrey Edwards marching on stage and ripping off her ref jersey to reveal a Steve Jobs style turtleneck. Typically, video games fulfill lofty fantasies, allowing players to become sword-wielding knights, space marines, or acrobatic plumbers. Aubert is in an unusual position in that the game she's developing fulfills a fantasy she's actively living. "It's interesting because when I get art for the wrestlers, I have to approve whether or not they look like my friends," Aubert laughs. "Does this look enough like Chris Jericho, this person I literally work with all the time?"
Though you might not guess it from her breakthrough success in two competitive industries, Aubert says it took work to overcome feelings of imposter syndrome. "Part of that is surrounding yourself with people who support you when you're outside your comfort zone," Aubert says. "I made a lot of friends at DigiPen who have been super supportive throughout my whole career, and I feel very fortunate to have that." The challenges she had to overcome weren't just internal, however, but the result of external sources as well — assumptions made about her being a woman in the male-dominated fields of gaming and wrestling. "Even at DigiPen, there were other students who assumed my husband did my programming homework for me, or that I went into production because that's 'the woman's role' in games," Aubert says. "Then when I started reffing, whenever I'd leave Seattle, I'd notice I'd only get booked for women's matches. With AEW, as much fan art as I get, I also get lots of hate on Twitter from guys going, 'She's just trying to take up all the attention. Refs should be invisible!'"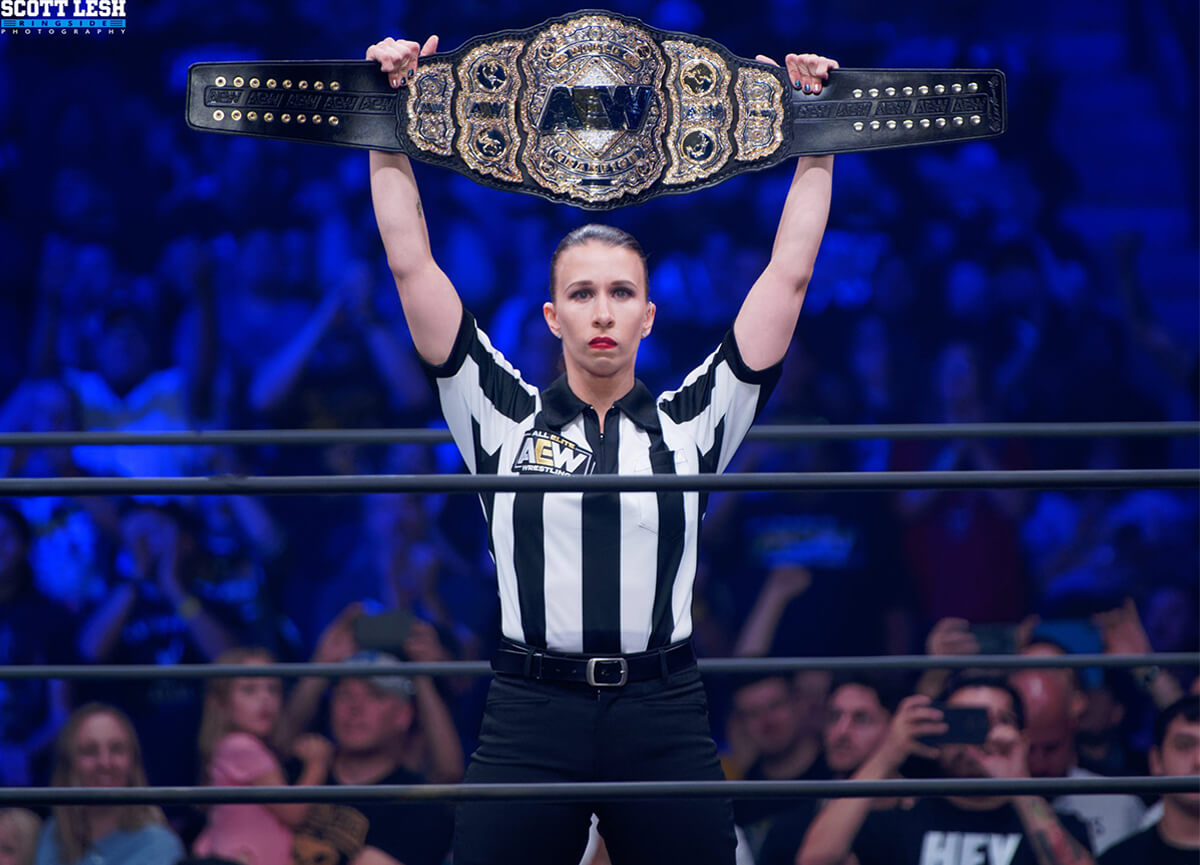 But now that Aubrey Edwards has become a regular feature on TV screens across America, assumptions about what a pro wrestling ref should look like have changed. "At first people would say, 'Oh, there's a girl reffing these big matches!' But now that it's just a thing that happens — for instance, I do every one of Chris Jericho's matches — people don't really think about it."
In the same way her visibility has impacted wrestling, Aubert says her passion for game production came in part from DigiPen professors like Rutherford and Sonia Michaels, both visible women faculty members. "It comes down to representation. You see someone who looks like you do something, and you think you could do something similar," Aubert says. "As girls growing up in society, we're pushed away from math and programming. But I think that's changing as STEM becomes more accessible to girls at a younger age." In fact, Aubert helped further that very cause recently, doing so in the most Aubrey Edwards way possible. That ref jersey she ripped apart at the AEW Games launch event? It was auctioned off to raise $3,649 for Code.org, a nonprofit expanding access to computer science education for young women and students from underrepresented groups.