Take an inventory of DigiPen senior lecturer Peter Moehlre's office and you'll discover a whole range of interesting sights. From penciled portrait sketches and clay figure sculptures to a breathtaking acrylic painting of a Venice canal, Moehrle's multidisciplinary talents are immediately apparent.
But sit down for a few minutes as he rummages through his bookshelf and you're also likely to come across a treasure trove of artifacts from Moehrle's 30-year career in animation.
"This is from 1992 or something — 20 years old," Moehrle mentions quietly, showing off some layout sketches taken from the production of An American Tale: Fievel Goes West, stuffed in a regular manila folder. "I have no idea what these are worth."
But the bulk of Moehrle's paintings and drawings aren't of cutesy animals. Instead of featuring creatures and people, they depict all manner of places and scenes. A quaint village street view. A cluttered kitchen interior. As examples of Moehrle's work as a professional background artist, these are studies in color, mood, and environment, providing a backdrop for the characters to take center stage.
While Moehrle always had a penchant for the arts, it was largely by chance that he began a career in animation. After graduating with a fine arts degree from the Ontario College of Art, his first job for close to a year was as at a picture framing shop. It was there that a customer, who worked as a professional voice actor, encouraged him to "get a real job" by putting him in touch with someone he knew at Canadian animation company Nelvana.
"He wrote down a number and said, 'Hey, call this guy. He's a friend of mine,'" Moehrle says. "And then I called and they said, 'Well, he's the owner of the company, so you don't want to talk to him.' But I went in and I started doing tests."
I called and they said, 'Well, he's the owner of the company, so you don't want to talk to him.'"
As part of his job interview, Moehrle received black-and-white layout drawings and was told to paint them in with color. Three months later, Moehrle was finally hired on at the Toronto-based studio, where he worked as a background artist for Nelvana's first full-length feature Rock and Rule, a film set in a bizarre post-apocalyptic future populated by mutated humans and featuring original songs by musical artists like Cheap Trick, Deborah Harry, Lou Reed, and more.
"I worked on that for like two years, and then such classics as The Care Bears Movie and Strawberry Shortcake," Moehrle jokingly says. "Quality shows."
From there, Moehrle moved on to other animation studios in Montreal, Ottawa, and London, before eventually being hired on as a background painter at Disney's Florida-based animation studio. For the next eight years, Moehrle worked on three released features — Mulan, Tarzan, and Lilo & Stitch — as well as a cancelled project known as "My Peoples."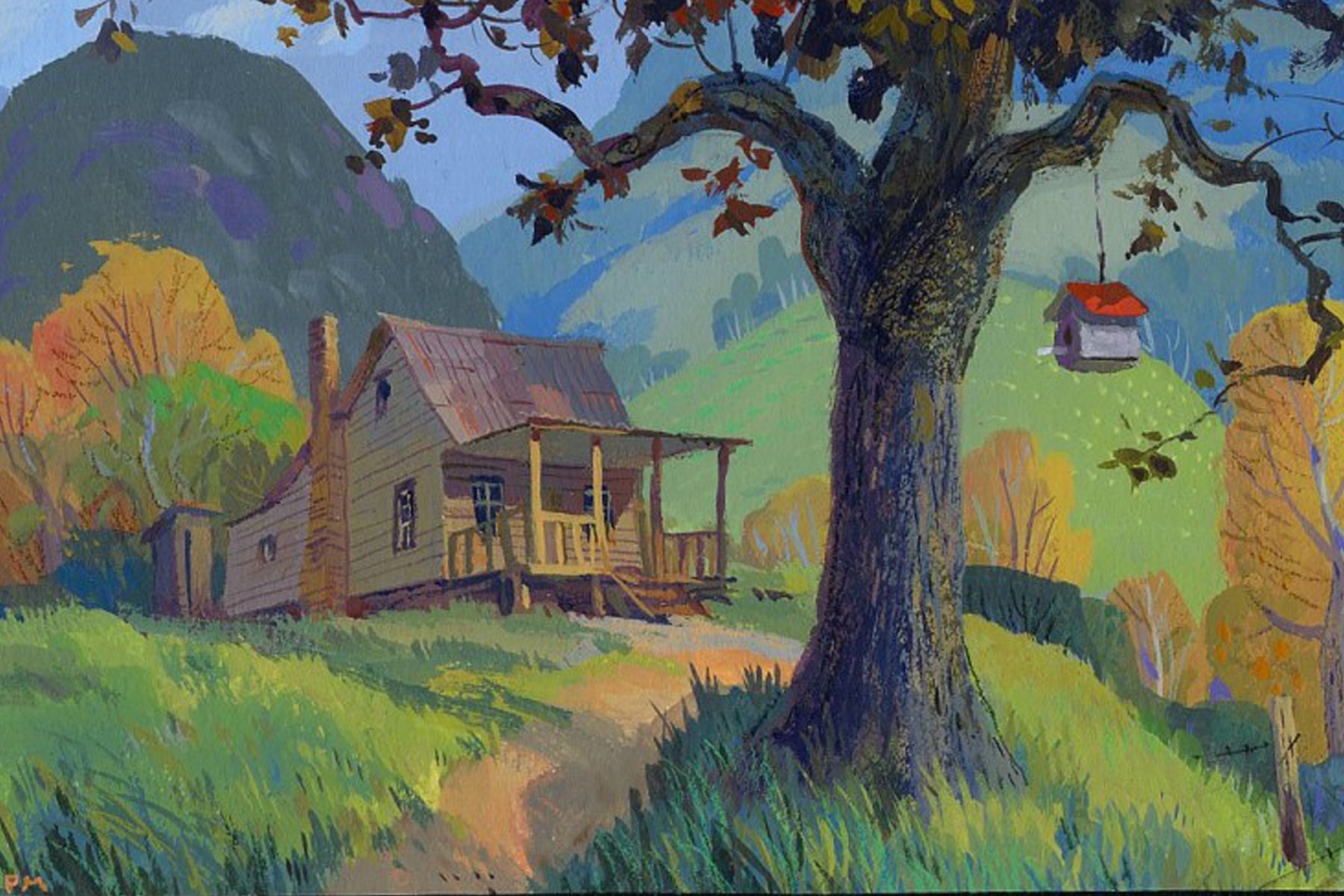 After the Florida studio's unfortunate closure in 2004, Moehrle worked for other animation outfits in Canada and the United States, receiving film credits on titles like The Wild and Ice Age: The Meltdown.
For the latter film, Moehrle was hired to help produce the film's color script, which is a series of digital paintings — based on scenes and sequences written in the actual script — used to map out the visual trajectory of the entire movie. This helps the film's producers and directors determine whether or not additional changes need to be made in the flow and progression of the story.
"If you do the color keys you may find out half the movie takes place at night. And then you go, 'Well, no, we can't do that, because the audience will fall asleep,'" Moehrle says. "You have to be able to pace it not with just color but day and night and mood. All these things play a part."
While working on Disney's cancelled "My Peoples" film, Moehrle and his studio coworkers went on a countryside tour of Kentucky and neighboring states, visiting with folk artists in their homes and taking research photographs for help with creating the art and visual style of the movie. The film was intended to be a love story set in 1940s Appalachia, featuring much of the region's characteristic music, art, and folklore.
If you do the color keys you may find out half the movie takes place at night. And then you go, 'Well, no, we can't do that, because the audience will fall asleep.'"
"When you do these kinds of projects it's nice to really get into it, and it makes a more believable story in a way. It just gives it that extra connection to real life," Moehrle says. "You end up learning about that environment, those people, what makes them tick. It's very educational."
Today, in addition to teaching classes in animation and production, digital arts, and fine arts, Moehrle continues to pursue not only a wide spectrum of personal art hobbies but also the occasional freelance job, including character development work, book cover illustration, and creating art for movie pitches.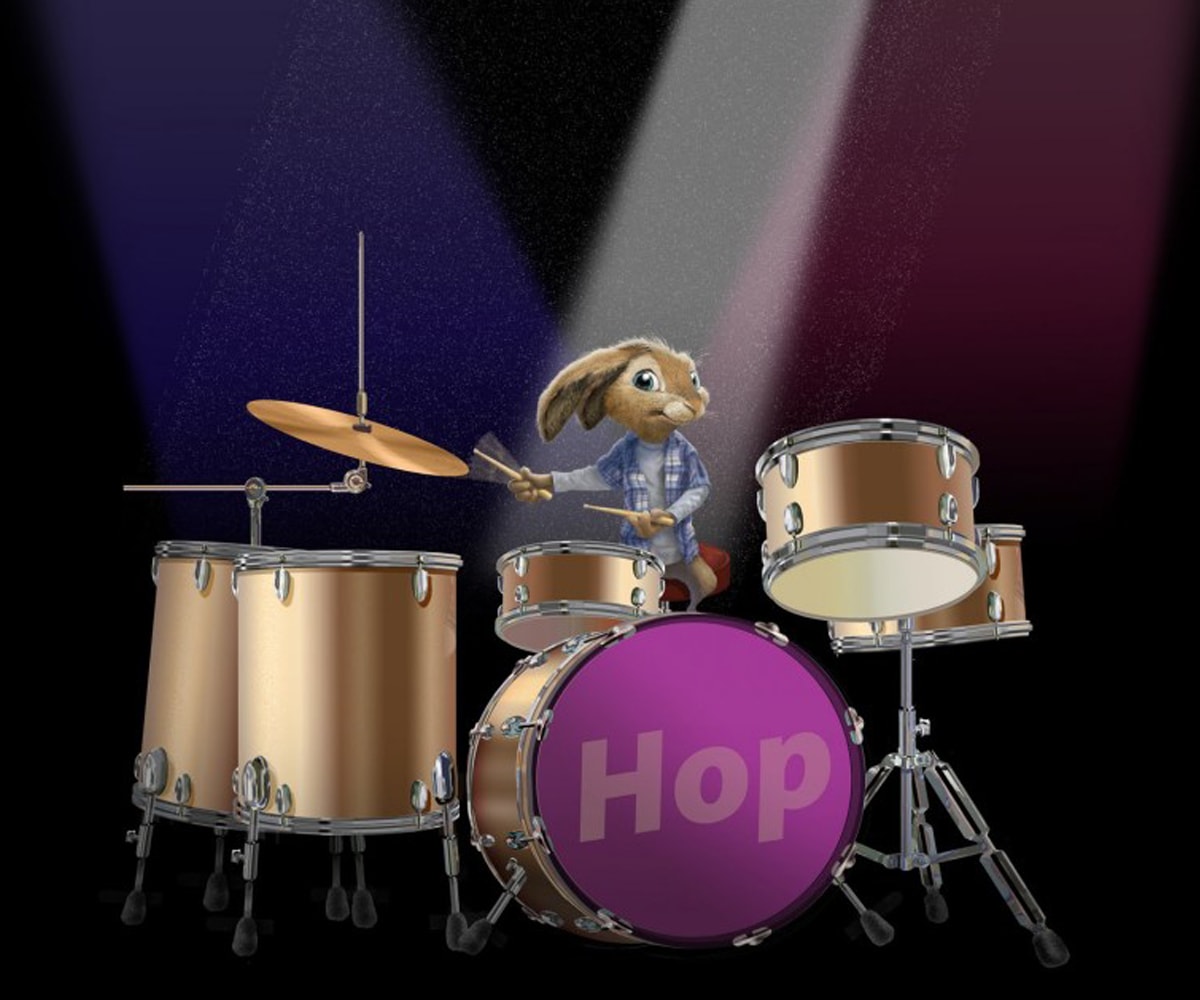 For one of his more recent jobs, Moehrle received a phone call from a Universal Pictures representative asking for a strange piece of artwork.
"What they told me was they want a bunny playing drums," Moehrle says. "I had to flip it around in like three or four days and they wanted it for this meeting and it had to be done."
Moehrle says he did the work and forgot about it until a year later, when he happened to see a teaser trailer for the movie Hop.
"You see that a year later and you go, 'Oh, that's what that was for,'" Moehrle says.
You can check out other examples of Moehrle's professional and personal artwork on his blog.