As the character Piglet once said, "The things that make me different are the things that make me me." The same could be said for MFA in Digital Arts graduate Taralyn von der Linden. While she came to DigiPen with a rather unique background — one involving a knack for life-size puppet making — it was that very niche skillset paired with her education at DigiPen that helped her land a dream job at Walt Disney Imagineering, the Disney subsidiary responsible for designing and building its worldwide theme parks, attractions, resort hotels, cruise ships and more.
After three years on the job, she's already undertaken projects on three major attractions, turning popular Disney characters into fully-realized moving and talking robots. It was an outcome she didn't anticipate, and by her own telling, a field she hadn't even considered prior to coming to DigiPen.
"Creating Audio-Animatronics characters wasn't my end goal at all," von der Linden says of her initial decision to enroll in DigiPen's MFA program. "It was puppetry that brought me there." Although von der Linden had earned her bachelor's degree in illustration from a university in Philadelphia, her undergraduate experience also included plenty of puppets.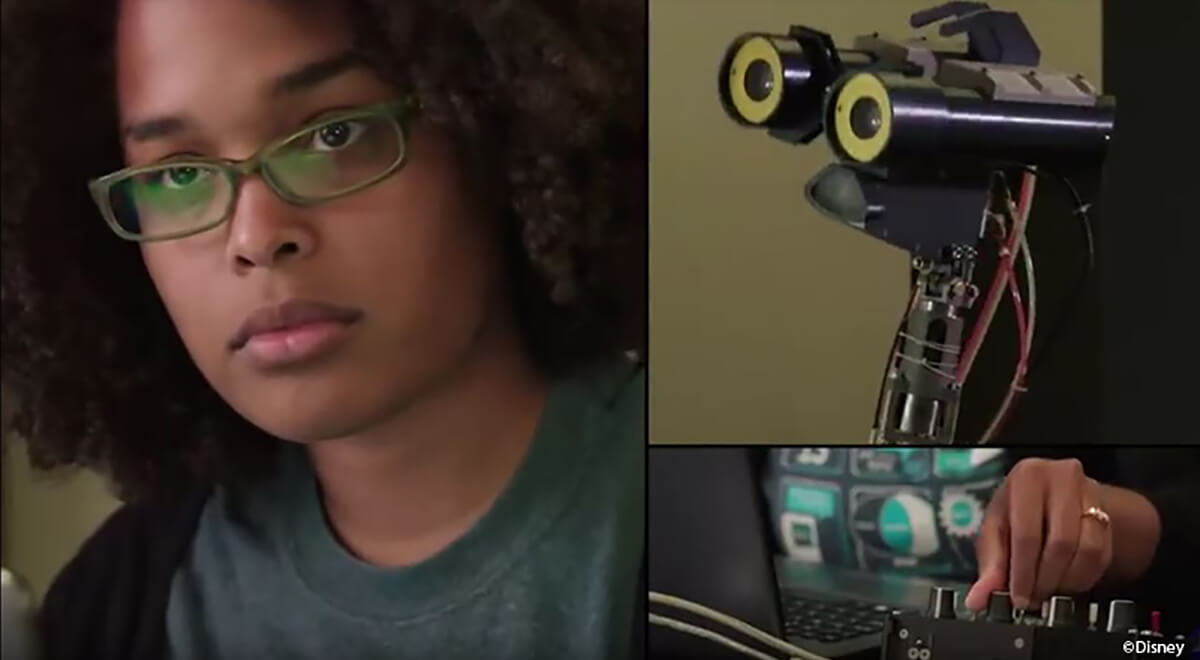 "I did an internship in my undergrad for the Spiral Q Puppet Theater, a puppet non-profit art center in Philadelphia. I started out wanting to be a puppeteer. But soon I started to become more of a puppet maker," von der Linden says. "It was all traditional tools — sculpture, clay, lots of papier-mâché. But I was looking for a place where I could balance out my art skills with technology while still giving due consideration to traditional art as a medium. I was looking for a school like DigiPen."
Of course it's a totally different medium, building a puppet in real life versus rigging one in a computer, but the end goal is the same."
For von der Linden, the connection between digital art and traditional puppet-making lay in rigging — the process by which technical artists give 3D characters underlying skeleton-like structures and controls that animators can then manipulate. "To me, a rigger's job is the same as a puppet maker's job," von der Linden says. "I need to build the armature and controls that serve the puppeteer, or serve the animator, to help them bring the character to life. Of course it's a totally different medium, building a puppet in real life versus rigging one in a computer, but the end goal is the same."
Once at DigiPen, she quickly saw the overlap between real-life puppetry and the skills she was learning in 3D graphics program Maya. From there, she started researching how the two might inform each other, an inkling that led to her thesis project.
"There was a puppet of a herder character I'd had in mind for a while, at least the armature design," von der Linden says, "so for my thesis I said I was going to try to combine these traditional art skills and puppet-making as a medium with these new tools and new things I was learning at DigiPen."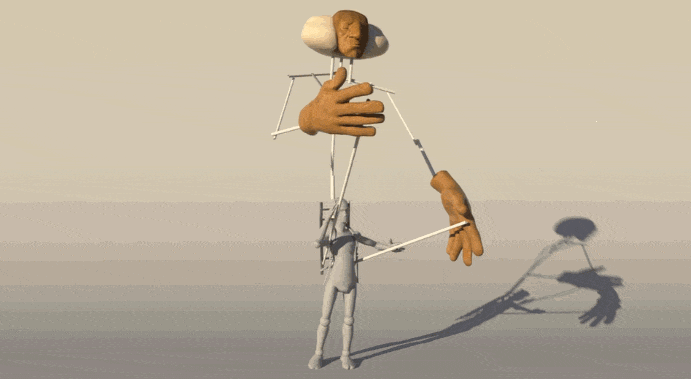 von der Linden's herder puppet was designed with parades in mind. The oversized armature, controllable by one puppeteer, features a strong, striking silhouette visible from a distance, as well as large articulated arms and hands, allowing the puppeteer to reach out into the crowd. The design started traditional, with sketches on paper and then scanned into Photoshop. Using those sketches, von der Linden then began to hand craft the puppet in real life, and with the help of one of her professors, she was then able to 3D scan the physical puppet into Maya as a one-to-one digital model. Taking it even further, von der Linden recorded a motion-capture performance of herself in the puppet, which she was able to turn into a highly accurate one-to-one animation for her digital rig as well.
While von der Linden's self-imposed challenge was to turn a fully-realized physical puppet into a digital one, when she was asked by her mentors what she would've done differently during her thesis presentation, she said she would've done the opposite.
"What I could have done is do troubleshooting in the digital medium to help inform the traditional one, because in Maya you can iterate quickly," von der Linden says. "If I don't like a particular pivot, why not try shifting it over an inch? To shift it over after I've already physically bolted it through the shoulder and tied things up, I'm far less willing to undo all that to iterate. Using a digital medium to iterate quickly and investigate various creative solutions is actually the workflow we do here at Disney."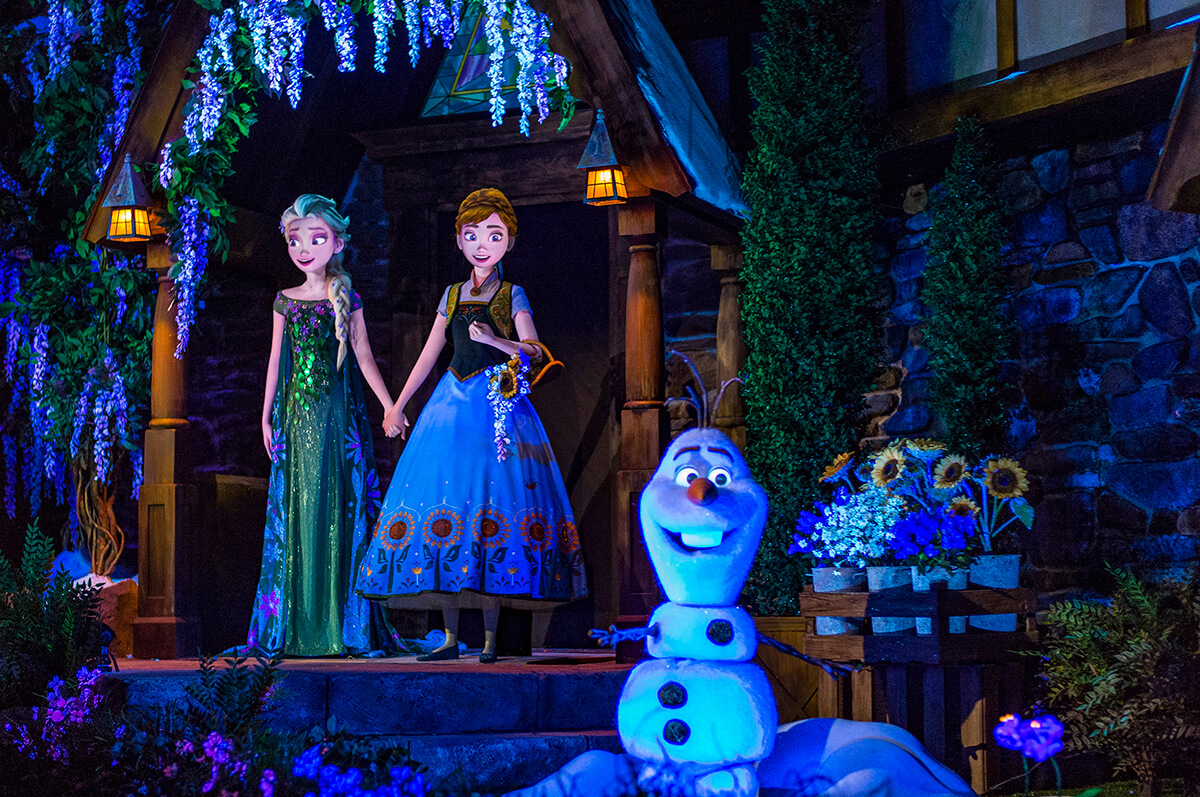 As it turned out, she'd been preparing herself for a job she didn't know existed. In November of 2014, von der Linden attended a Disney company day on DigiPen's campus. "I spoke to a recruiter, and she looked at my portfolio and said, 'You should consider Walt Disney Imagineering.' I didn't know what Imagineering was to be honest. But she said, 'Oh, they work on the theme parks and do a lot of Audio-Animatronics characters.' At that company day, she introduced me to an Imagineer."
After von der Linden and the Imagineer had a brief chat and a portfolio review, he offered von der Linden an Imagineering internship on the spot. "It was one of those textbook 'Wow! I can't believe this is happening to me' situations," von der Linden says.
To make up for any potential skill gaps prior to the internship, von der Linden started taking an extracurricular Arduino programming class to familiarize herself with electronics. When the three-month internship began, that education continued. "It was amazing, like, 'Wow, I'm learning stuff every day!'" von der Linden says. "The culture here is one of collaboration, one that is willing to let someone like me, who has no electrical and a makeshift mechanical background, learn on the job from others, which is really amazing."
Through hard work and dedication, von der Linden's internship blossomed into a fruitful full-time career. The first assignment von der Linden landed was Frozen Ever After, a ride at Epcot at Walt Disney World Resort. "I heard a lot of 'Let It Go,'" von der Linden laughs. "I was able to take that project all the way to install. It was super fun and a great introduction to figures and the collaboration involved to install a Disney attraction."
At Disney, von der Linden quickly discovered that even if Imagineers do have specific roles, everyone wears many different hats. While von der Linden's job involves a lot of rigging and animation, her role at Walt Disney Imagineering requires her to act as a liaison for a wide range of creative and technical disciplines. For the animatronic figures, she actually sees them through the entire pipeline — from their digital beginnings, to their physical assemblage on the shop floor, through their final installation in the attraction, and finally as a guest herself.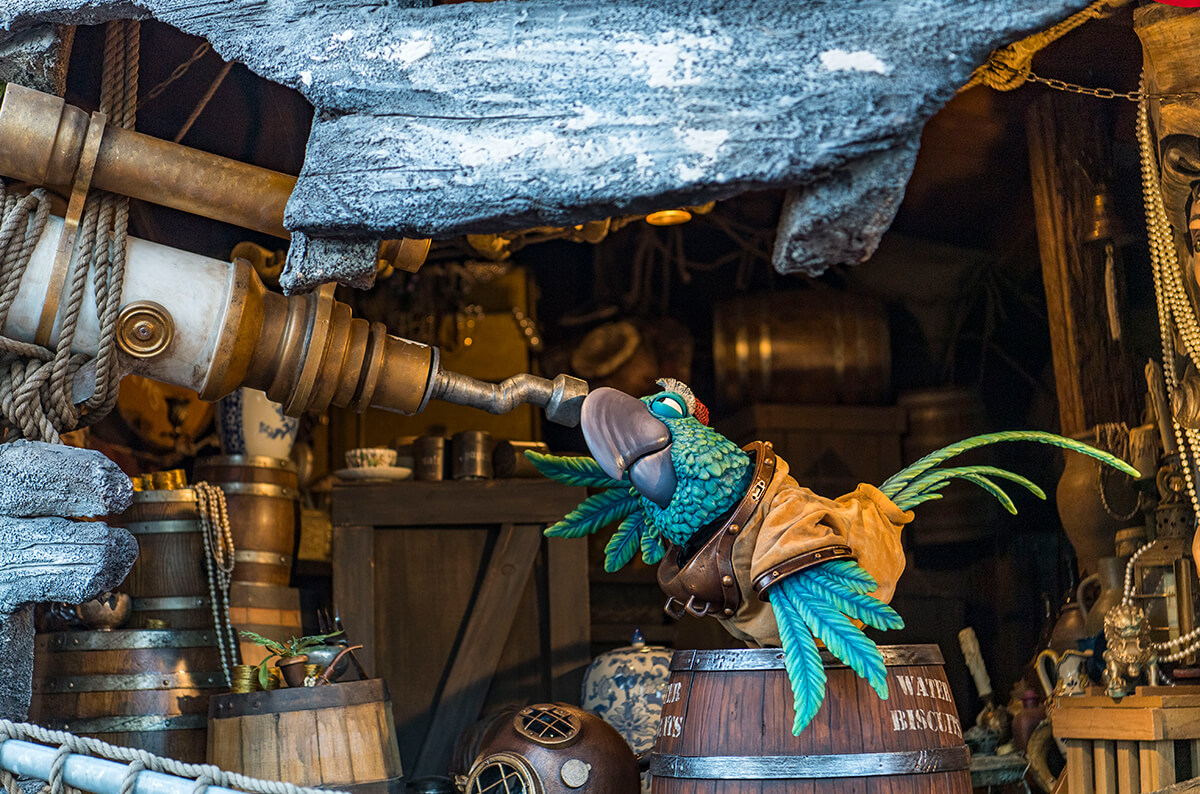 "It's funny, I have a desk job for part of the year [where] I'm at my desk rigging and scripting, supporting an animator, working in the normal digital pipeline," von der Linden says. "But then the figures start to get built. They're mechanically manufactured. They're electrically wired. Then they are costumed and painted. And then I'm sitting in front of the Audio-Animatronics figures I've been seeing on the screen for the past six to nine months, and it's not a desk job. Then I'm working with those same engineers and creative teams to make sure the Audio-Animatronics figure that has been assembled, wired, and costumed meets the performance that we as a project team have created and reviewed digitally in our animation software."
In the three years von der Linden has been at Disney, she's worked on life-sized and larger-than-life-sized animatronic figures like the Frozen characters and her current project for Tokyo Disney Resort, Enchanted Tales of Beauty and the Beast, as well as smaller characters like Rocket Raccoon on Mission: Breakout! — a Guardians of the Galaxy ride at Disney California Adventure.
"Then I worked on a bird named Duncan at Walt Disney World's Typhoon Lagoon. He's Disney's only Audio-Animatronics figure in a water park… so that's an interesting challenge for those motors," von der Linden laughs.