DigiPen graduate Charles Cox was on a trip to Washington, D.C., in February 2013 when an idea for a video game began to take over.
It happened, he says, during a visit to the Steven F. Udvar-Hazy Center — special annex to the Smithsonian National Air and Space Museum and home to nearly 300,000 square feet of aerospace history. Strolling through the vast complex, he looked on with fascination at the museum's spacecraft, satellites, and authentic astronaut gear and paraphernalia.
While it wasn't Charles's first exposure to the world of aerospace — his father is a captain for American Airlines, and Charles himself attended Space Camp as a child — the experience was no less captivating.
"They actually had a shuttle orbiter there. You could look underneath it, and you could see the burnt tiles where it reentered. And the entire thing was in a hangar, and you could walk around it," Charles says. "All the brain cells just started firing, because I was surrounded by this. You could feel the history."
Later on, at a pizzeria, Charles began sketching out his thoughts — stealing extra napkins from the waiting staff as he scribbled away.
"I had this idea for a game called Habitat," he says. "And it was about building space stations out of space junk, just being up there in orbit and welding them together into some kind of crazy monstrosity — putting rockets on it and flying it around."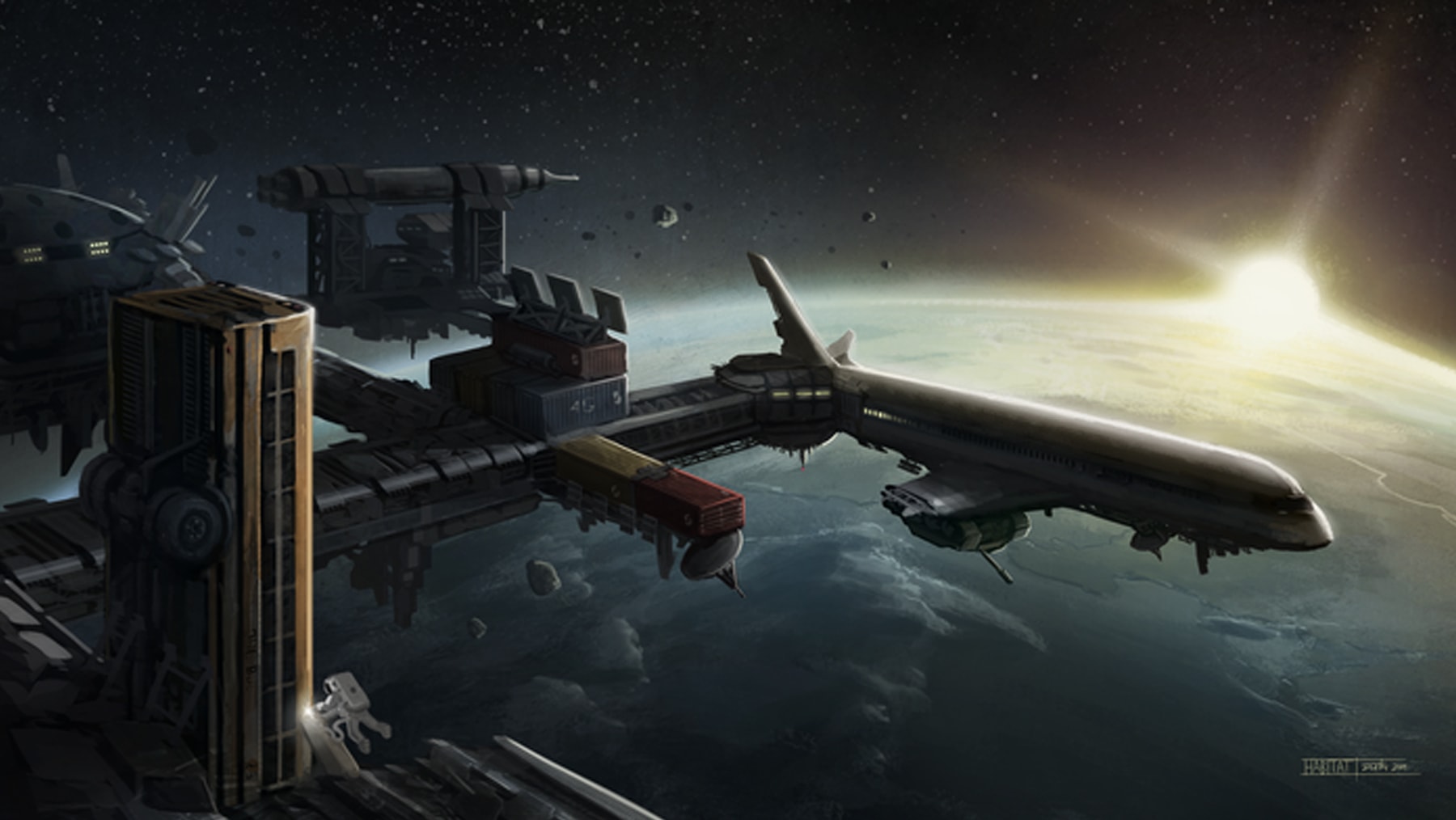 Today, more than a year later, Charles is closer than ever to bringing his initial idea to fruition through a startup studio he founded called 4gency. The company is currently running a Kickstarter campaign, seeking funding to turn their game prototype into a full-on commercial release for PC, Mac, Linux, and Xbox One. (Update: The Kickstarter campaign reached its funding goal on May 1, 2014.)
Set in the future, Habitat lets players create human-inhabited cities out of the bits and pieces of space garbage that have polluted earth's orbit — everything from rocks and derelict space shuttles to a laser-eyed Statue of Liberty head. Players will be challenged to build, craft, maneuver, and defend their floating fortresses from other human factions and various disaster scenarios, all within a zero-gravity physics environment.
Sometimes when you have something like this, the pieces start to fall together kind of on their own."
While the current game prototype has generated a lot of interest, getting to this point has been quite the journey. Last September, after months of preparation and with the support of his friends and family, Charles left his position at Microsoft to begin working on Habitat full-time.
"It took a number of months to find the team. But sometimes when you have something like this, the pieces start to fall together kind of on their own," Charles says. "So I started finding people who believed what I did."
One such example was Alexander Brandon — veteran game composer for Deus Ex, Unreal Tournament, and other PC classics — who contacted Charles and offered to write an original score for Habitat. Another was fellow 2001 DigiPen graduate Chris Chin, who joined the 4gency team more recently as a 3D artist.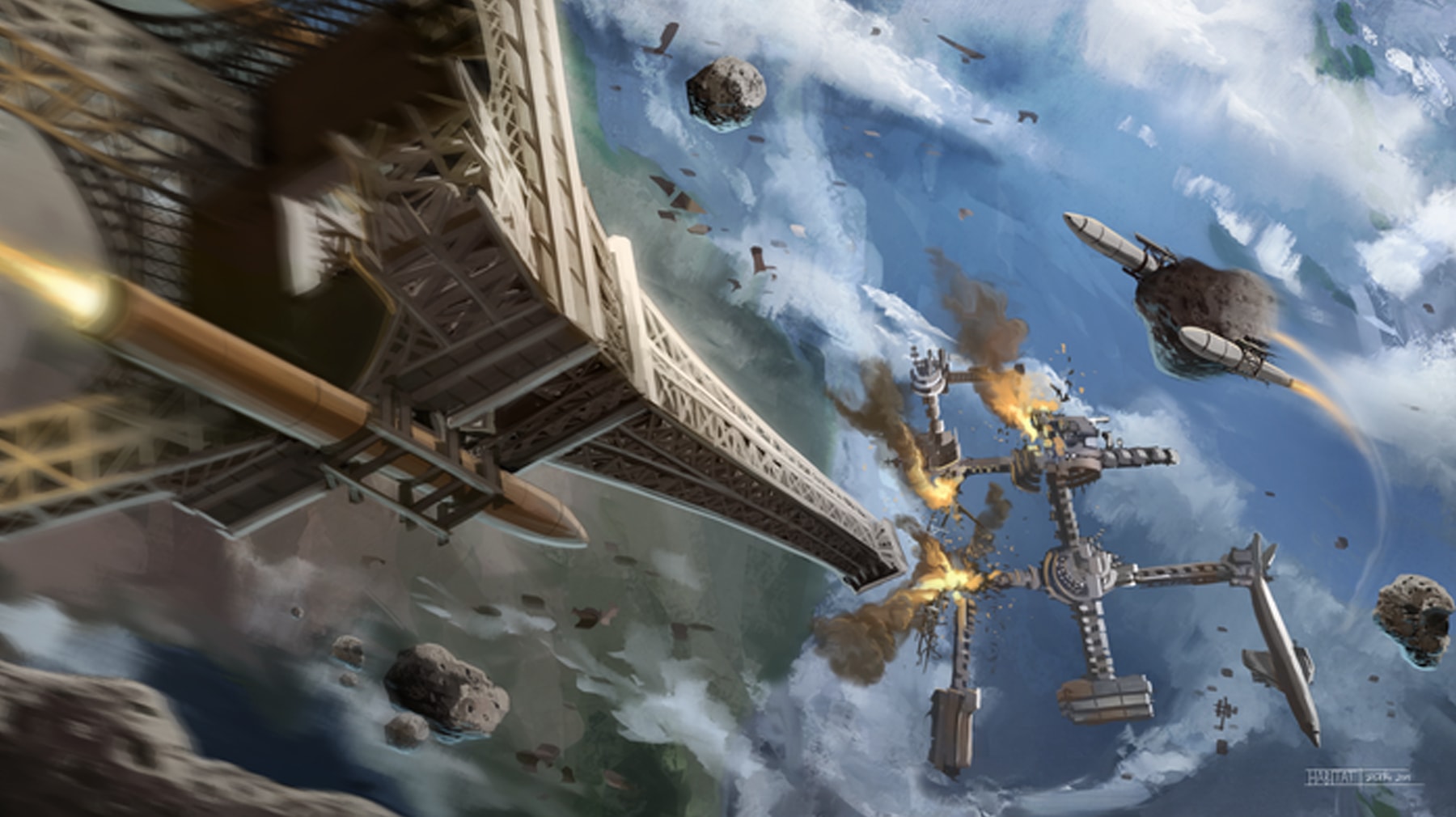 Still, not everything went according to plan. His team's first attempt at building a game prototype actually ended up failing, forcing Charles to pare down his original development team and restart the project almost from scratch.
"It was depressing to have such an early failure, but we had to try again," Charles says.
I credit DigiPen for having the environment where it's okay to do crazy things."
With the help of Chris and the smaller remaining crew, the 4gency development team buckled down to create a brand-new prototype in close to just 12 weeks of work. They finished just in time to showcase the new version at the 2014 Game Developers Conference, where the game was met with enthusiasm from those who demoed it.
"And I credit DigiPen with that ability to just get it done. I think about all the hours I spent in a lab after classes," he says, emphasizing the point. "After classes! No one believes me when I tell that story."
Charles also points to his time at DigiPen for cultivating a spirit of creative risk and innovation, which characterizes his current team's efforts to create a type of strategy game that hasn't been made before.
"Our first year we had to build a text adventure. And so I said, 'Well, fine, but we're building a real-time text adventure, because we can do that. And I think it's going to work!' And I convinced a team, and we got together and we did it," Charles says. "Again, I credit DigiPen for having the environment where it's okay to do crazy things."
Charles graduated in 2001 with an Associate of Science in Real-Time Interactive Simulation degree. He previously worked for Sierra Studios, Volt, Zipper Interactive, and Microsoft.