Last updated: February 9, 2021
Campus Expansion and Improvements
The Wing
Introducing The Wing! For the past year, we have been working on this expansion, and its completion comes at an optimal time when physical distancing and healthy work environments are more important than ever. The Wing offers students a variety of spaces and is designed with student wellness as a priority.
The Wing is conveniently located only 200 feet away from our Main Campus and houses our Library along with additional lab space, six collaboration rooms, multi-function workspaces, lounge areas, and an additional classroom.
---
Campus Safety
Masks and Face Coverings
Masks will be provided to students at no cost. All individuals on campus or entering shuttles are required to wear a mask or face covering which completely covers the nose and mouth. Masks and face coverings may be removed when eating, drinking, spending time outside independently, or spending time in a closed, independent office. Please review the Washington State Department of Health's guidance on face coverings [PDF].
Health Screening
Everyone entering campus will be presented with a questionnaire regarding COVID-19 symptoms and will also self-scan themselves with our no-touch thermal imaging system for fever detection. Entry to the main building will be limited to the main entrance, while other external doors will be exit only. Under our current guidelines, individuals exhibiting symptoms of COVID-19 are asked to stay off campus and will be provided with public health resources, if needed.
Physical Distancing
Physical distancing of at least six feet of separation should be maintained by every person on campus at all possible times. Social distance markers have been placed in potential choke points.
Social gatherings should be kept small, and guidance will change depending on conditions. Students are encouraged to meet and gather outdoors as much as possible.
Infection/Exposure Protocol
See our Infection/Exposure Protocols for contact information and what steps to take if you are experiencing COVID-19 symptoms, have tested positive for COVID-19, or live with or been exposed to someone who has.
Classroom and Lab Density
Classroom and lab density will be reduced to 35-50% or less of normal capacity.
Dedicated Lab Seating
Dedicated lab seating will be offered with limitations. To maintain a low-density environment, teams will receive a partial allocation of seats. Seating density will start at 35% capacity, then increase to 50% density. Exact details of seat allocation will be provided by the Lab Manager. All second-, third-, and fourth-year project teams have received dedicated, socially distanced lab spaces.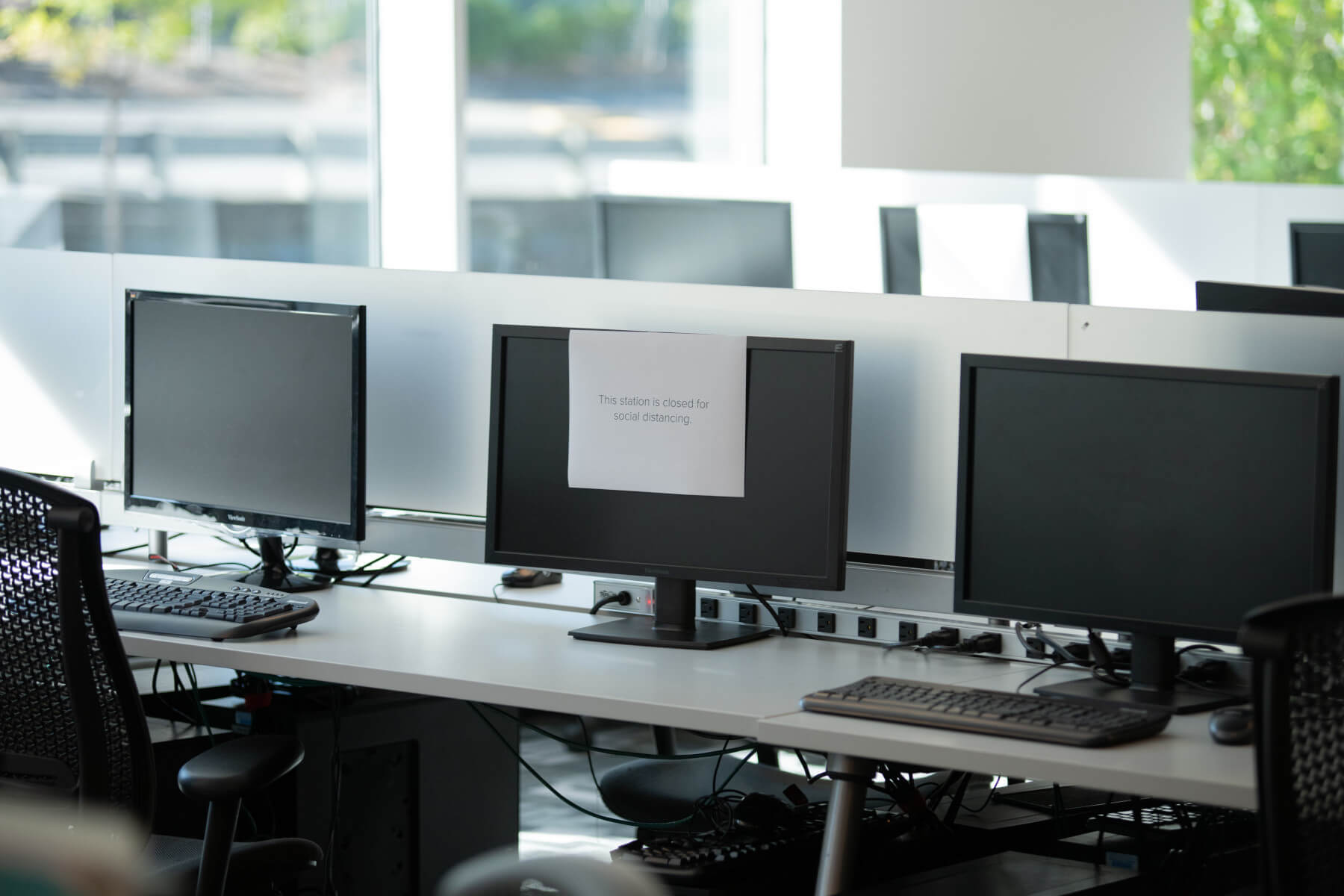 Shuttle Service
As on campus, anyone entering a shuttle is required to wear a mask or face covering which completely covers the nose and mouth. Shuttle service will continue to be available. Shuttles will have reduced capacity and be sanitized between every run. Shuttles will have hand sanitizer and disinfectant wipes available to riders.
Housing
See our COVID-19 Housing Policies for the quarantine procedures applicable to DigiPen Housing residents during the course of the year.
Food Service
In-person food service will be available. The food service team will keep food safety and accessibility as its first priority. Safety precautions include:
Seating will be at reduced capacity.

Social distancing markers have been installed.

Hand sanitizer is readily available to all patrons.

The kitchen, bookstore, and seating areas will be sanitized often. A staff member will be devoted to sanitation.

As always, staff must stay home if they are not feeling 100% or have been exposed to someone who is sick.

Staff must stay home if one of their household members have cold, flu, or COVID-19 symptoms.

Staff are scanned for an elevated temperature before working.

Staff must wear face masks while working.

As always, staff will wash their hands and wear gloves when handling food.

As always, staff will not touch their faces, cellphones, clothes, etc., when handling food.

Staff will maintain physical distance when working.
Limited On-Campus Staff
Since early March, many DigiPen employees have been working remotely in order to prevent the spread of the coronavirus. We will continue to limit on-campus staff levels to administrative staff, support of distance education, and the security of the physical premises. All student services will continue to be available either in-person or online. During the fall 2020 semester, more staff have returned to campus in order to provide food service and facilities services. A "virtual" Front Desk provides students with full service upon entry to campus without any direct physical contact. As conditions allow, additional external affairs, student services, and other staff will return to working on campus.
Campus Sanitation: Regular Regimen
When on-campus instruction and education components are in session, campus sanitation will be extremely heightened. Our sanitation regimen to mitigate disease-causing germs on campus include:
All touchpoints in the lobbies and main stairwells of the Main Campus and The Wing will be sanitized every hour.

All elevators will be sanitized every hour.

On top of our usual around-the-clock sanitation team, there will be additional sanitation staff members solely devoted to sanitizing touchpoints constantly through the day.

Sanitation staff are trained and equipped to sanitize an area visited by a suspected or confirmed case of COVID-19.

Sanitation staff will only use EPA-registered products known to be effective against SARS-CoV-2 and virtually all disease-causing germs.
Campus Sanitation: Response to a Confirmed Case
If DigiPen learns about a confirmed case of COVID-19 on campus, we will carry out the following sanitation response:
Areas visited by person confirmed to have COVID-19 will be marked off and deactivated as soon as possible.

Areas will each be assessed and a unique cleaning plan will be created. Some areas may be sanitized as soon as possible, while other areas may be given time to "cool down" before sanitizing.

Thorough sanitation is carried out using EPA-registered products known to kill SARS-CoV-2. Sanitation will come in the form of fogging the room with disinfectant as well as wiping down all surfaces with disinfectant.

Area is reopened.
Hand Sanitizer and Wipes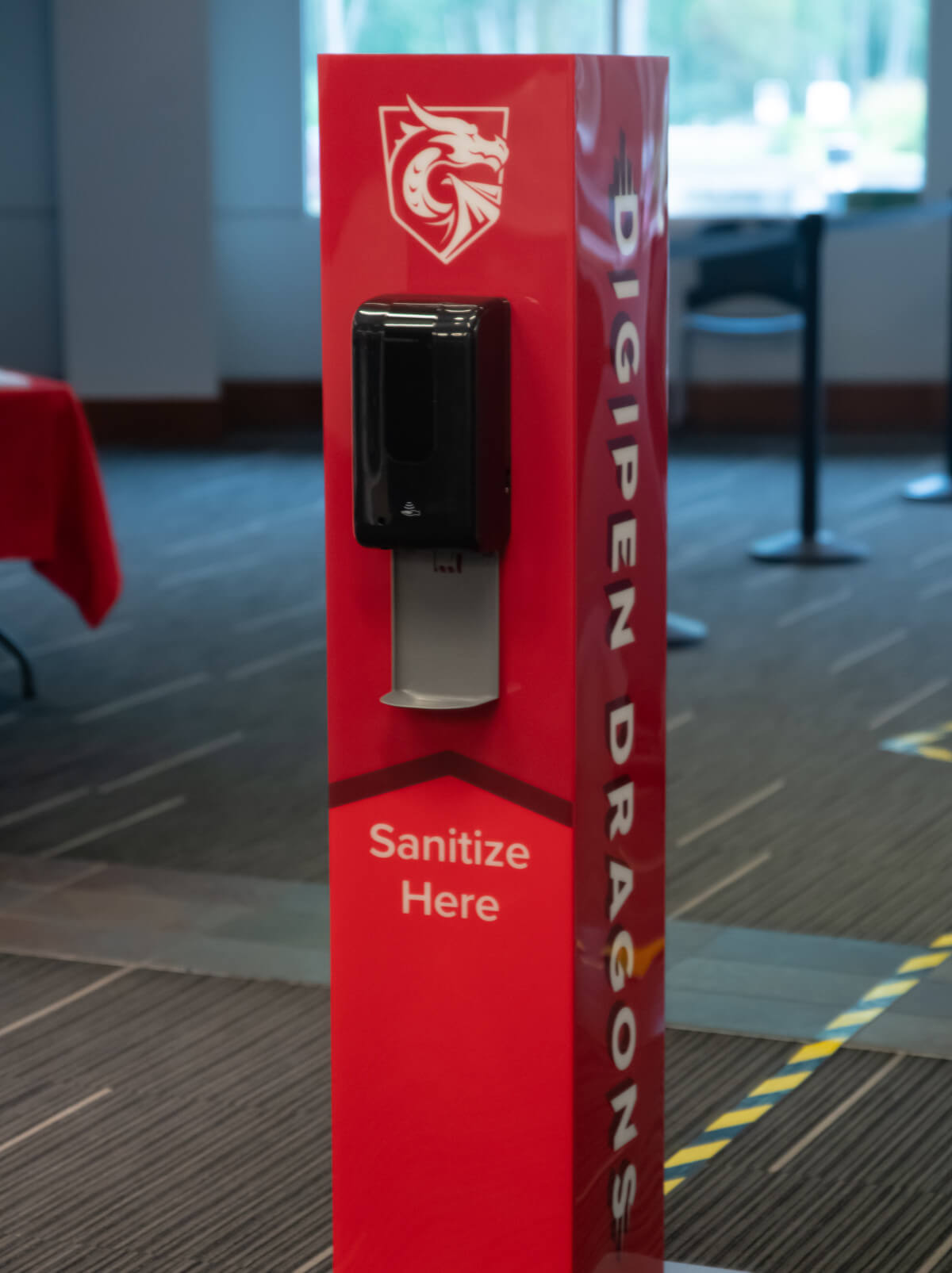 Hand sanitizer and wipes will be available throughout campus. Students will be able to wipe down their work areas/classroom desks as often as they like.
Air Filtration
The campus HVAC system has been upgraded to MERV 13 filtration and fresh air intake has been set to a maximum.
Barriers
Plexiglass barriers have been installed in high-traffic areas. Additional portable plexiglass barriers will be available for students to use when and where they would like. Lab seating dividers have also been installed.
Visitors
Visitors will be limited to those who have coordinated with academic or staff departments.
---
Testing, Case Protocol, and Contact Tracing
In order to provide the safest environment possible, DigiPen is committed to following the guidance from the CDC and local health departments. DigiPen's testing, quarantining, and contact tracing protocol may change as the guidance changes.
Testing
Access to testing is typically handled through primary care providers. For people who do not have regular access to a primary care provider in the area, King County offers a network of free testing sites. For information about testing available in King County, visit their website or call the King County COVID-19 Call Center at (206) 447-3977 between 8:00 a.m. - 7:00 p.m. Pacific.
Case Protocol
Students who are experiencing COVID-19 symptoms or have had close contact (i.e., within six feet for over 15 minutes) with a person with a confirmed case of COVID-19 should immediately self-quarantine, contact Student Affairs at studentaffairs[at]digipen[dot]edu, seek medical advice, and seek COVID-19 testing. Individuals with either suspected or confirmed cases will need to follow a medical clearance protocol before returning to campus.
Contact Tracing
Students experiencing COVID-19 symptoms, have had close contact (i.e., within six feet for over 15 minutes) with a person with a confirmed case of COVID-19, or have tested positive for COVID-19 should notify studentaffairs[at]digipen[dot]edu. Faculty and staff in the same situation should notify hr.us[at]digipen[dot]edu. Trained staff will perform contact tracing following CDC and local health department guidelines to mitigate exposure in our community. In addition, King County Public Health may also perform contact tracing of COVID-19 cases.
Vaccinations
For vaccination information, including vaccine availability and who is qualified to be vaccinated in King County during the current phase of the distribution plan, please see King County's vaccination page.
Basic Prevention Methods
Wear a mask or face covering while around other people, in public, and indoors. Encourage those around you to wear them too.

Clean your hands often. Wash hands with soap and water for at least 20 seconds. If soap and water are not available, use an alcohol-based hand sanitizer that contains at least 60% alcohol. Do not touch your face with unwashed hands. Cover your coughs and sneezes. Throw used tissues away and wash your hands.

Clean "high-touch" surfaces — like counters, tabletops, doorknobs, bathroom fixtures, toilets, phones, keyboards, tablets, and bedside tables — every day. Use a household cleaning spray or wipe and follow the directions on the label.

Don't share personal items — including dishes, drinking glasses, cups, eating utensils, towels, or bedding — with anyone (both people and pets) in your home.